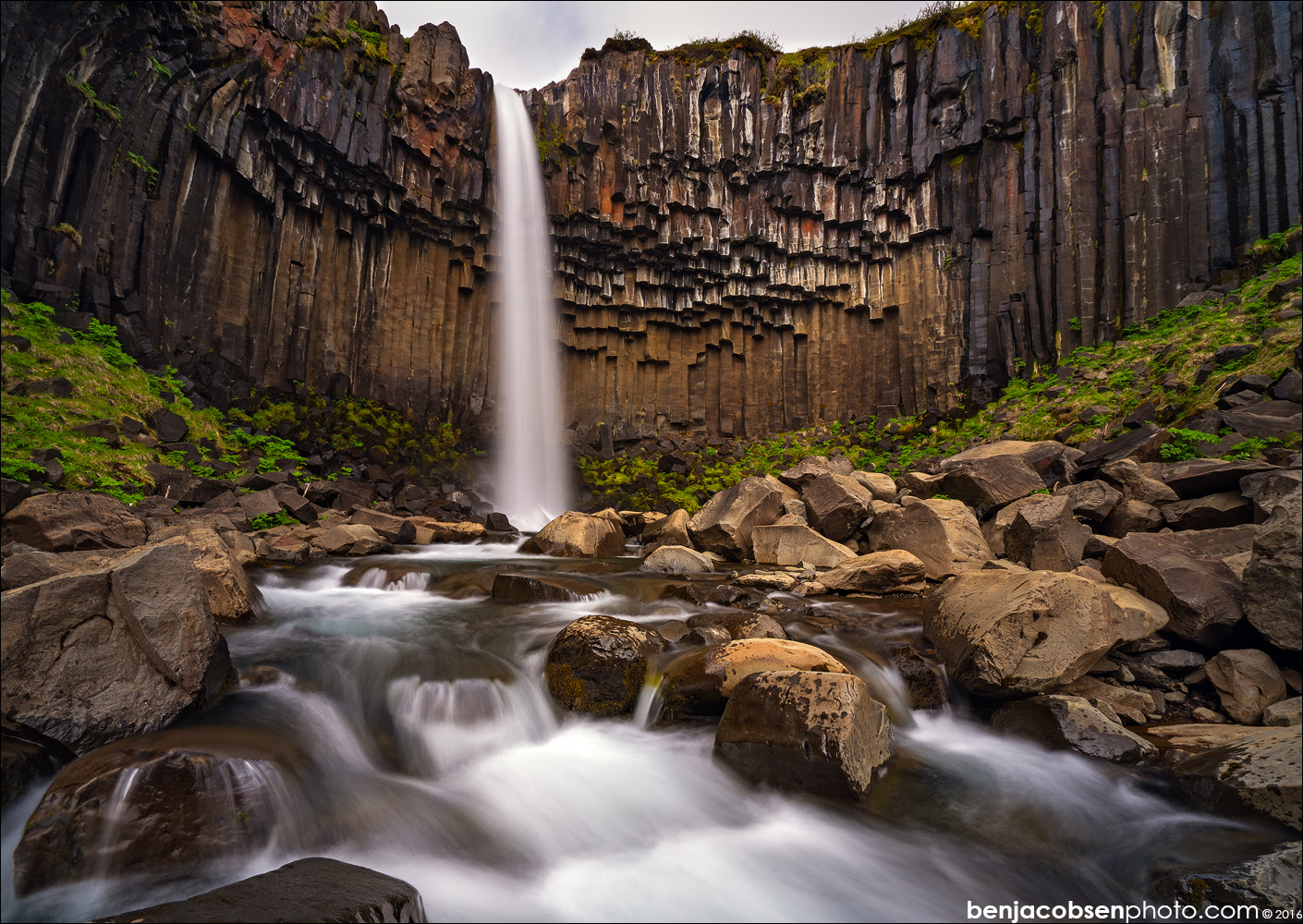 Iceland!  It's been a goal of mine to get to Iceland for a long time now.  I'd seen an image of Svartifoss on Flickr a while ago and added it to my favorites.  I didn't know much about it other than it was a cool waterfall.  I then began to look into the falls a bit more and realized they were in Iceland so I added it to my bucket list of places to go.  Fast forward to this year and Nikki and I were looking for a place to go on a long weekend trip to have a nice weekend away.  We assumed we'd be staying in the states for budget reasons and our short list was the Pacific NW, Montana (where we went to college) or SW Utah.  As I started looking for flights I also looked at an Iceland flight as I knew it was a direct flight from Boston which might make things easier.  I was shocked to find out tickets to Iceland (on Wow Air) were cheaper than ANY of our other choices and sometimes more than half the price!  So it was settled, we were going to Iceland!
I can't tell you how many hours I poured into the planning of this trip.  I've spent a lot of time pouring over flickr and google image searches for Iceland in general as well as specific locations I was interested in.  I bought four guidebooks, three maps and two e-books.  I made this post (well worth checking out if you're considering a trip) to keep all the information I'd gathered somewhat organized and in one place.  I even made my own atlas of a google map I'd made of Iceland with images of the locations I wanted to go to complete with an overall view of Iceland as well as a map for each individual day.  I was as ready as I could be, now it was time for the trip!
Flyday

Nikki and I both took the Friday of our flight off.  We flew out of Boston on the 7pm Wow airlines flight which meant we'd need to be driving to the airport close to their evening rush hour (and on a Friday when traffic is always worse).  There are also stories about TSA delays on the news these days so we wanted to make sure we gave ourselves plenty of time.
We packed the kids up and sent them off to school in the morning as usual.  We wrapped up our packing (because who gets packed early?!) and weighed our bags to make sure they fit in with WOW's guidelines (if you're flying Wow MAKE SURE you read their baggage policies!!!).  Our combined checked bag was at 42lbs (needed to be ~44) with Nikki's Carry On bag inside a large osprey duffel with all my clothes in it.  My carry on bag was my Mindshift Backlight 26L loaded with all my camera gear.  It was over both their 11lb "free" carry on weight as well as their 26lb paid carry on weight but because it had all my camera gear which contains a lot of lithium ion batteries I was told they wouldn't weigh it which was true!  Also, for the record my shift to mirrorless cameras was in large part to get the size and weight of my kit down.  The camera portion including tripod was ~20lbs if that, the bag also had our guide books, maps and my toiletries kit in it.
We set off to the airport at noon here in Rhode Island.  Yes, 7 hours before our flight!  We figured we'd rather cool our heels there and read/re-read some guide books -vs- be stresses about making a flight.  We arrived at Logan Express at 1:25pm and parked the car. We walked into the ticket office, bought our tickets and just made their 1:30pm shuttle to the airport.  We were dropped off at terminal E at 2:10pm only to find out WOW doesn't open their check in until 3:30pm!!!  We found a bar outside of security and had a drink and quick bite to eat while we waited.  We got back to the counter right at 3:30pm but there was now a line.  We were checked in around 3:45pm and security/TSA was a breeze and we were though that in a few minutes and at the gate at 4pm.  By now we'd learned our flight would be delayed an additional hour due to an air traffic controller strike in Iceland (which meant the flight from Iceland to Boston was forced to leave late).  We had dinner and came back, boarded and were off around 8pm.  The flight there was easy but interestingly it never got dark?  We'd planned on sleeping on the plane as this was our one chance to sleep Friday night.  I managed ~3 hours of sleep but Nikki was very restless and didn't get much sleep at all.  The sun "set" but we flew north fast enough it never got dark.  The flight took a little over 5 hours.