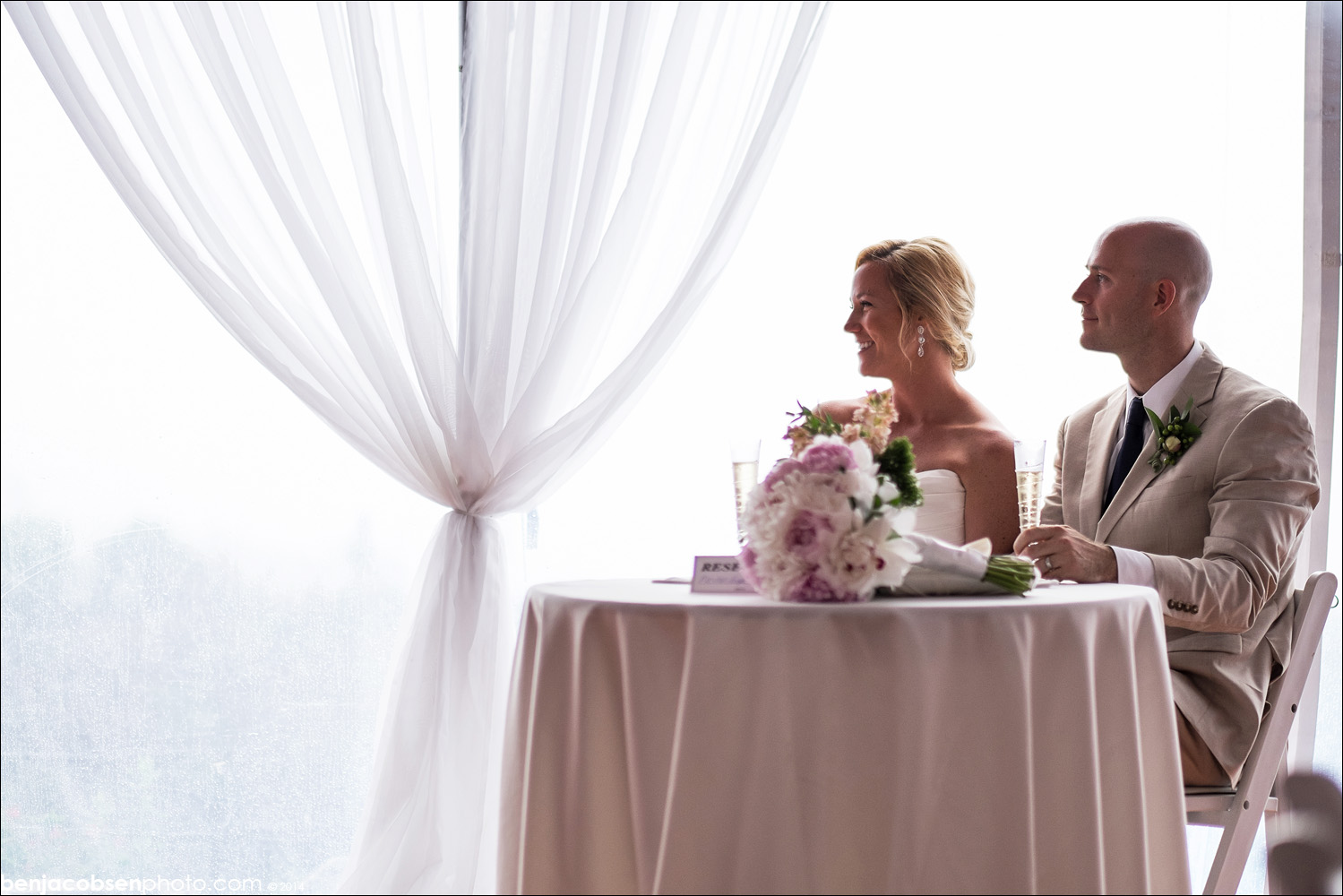 Welcome to the second part of my fuji X-T1 camera review.  This post will focus primarily on how the X-T1 performs while shooting weddings.  Part I of the review (which focuses on landscape photography) is here.  I broke the review up into two sections because the two genres are quite different and I figured it'd be nice to have two shorter reviews that are more specific to what people might want to read.  First off, let me explain that I'm NOT a full time wedding photographer.  I never have been and don't plan to be anytime soon.  I've been a second shooter for some friends of mine for the last three summers which is a role I really enjoy.  I've also had the pleasure of shooting a few weddings for close friends and I always bring my kit along to weddings I'm invited to (that's where the above image came from).  Because I'm a second shooter I've been asked not to share any images from my most recent wedding until the primary photographers wrap up their blog post…   So this image won't have a ton of images in it for a few more weeks.  For that I apologize but I figured I'd get my thoughts written down now while they're fresh.
At the last wedding I shot 1,440 total images.  71 of those were with the X-E2 with a combination of my 18mm f/2 and 8mm f/2.8 fisheye.  1369 were taken with the X-T1 using both the 23mm 1.4 and 56mm 1.2.  Obviously the X-T1 was my go to camera the entire day.  The 23mm and 56mm pair are very similar to my former full frame setup with a 35mm 1.4 and 85mm 1.8.  The biggest difference would be the DOF at 23mm is about double that of the 35mm on full frame because they both have the same maximum aperture.  The 56mm is enough faster at 1.2 that it's pretty close in available DOF as the 85mm was at 1.8 and the fuji pair puts the ISO enough lower you're getting the same if not lower noise to be honest.  1440 images filled one 32gb SD card with 942 images then the remained were on the 32gb the XE2 started with and the backup 32gb for my X-T1.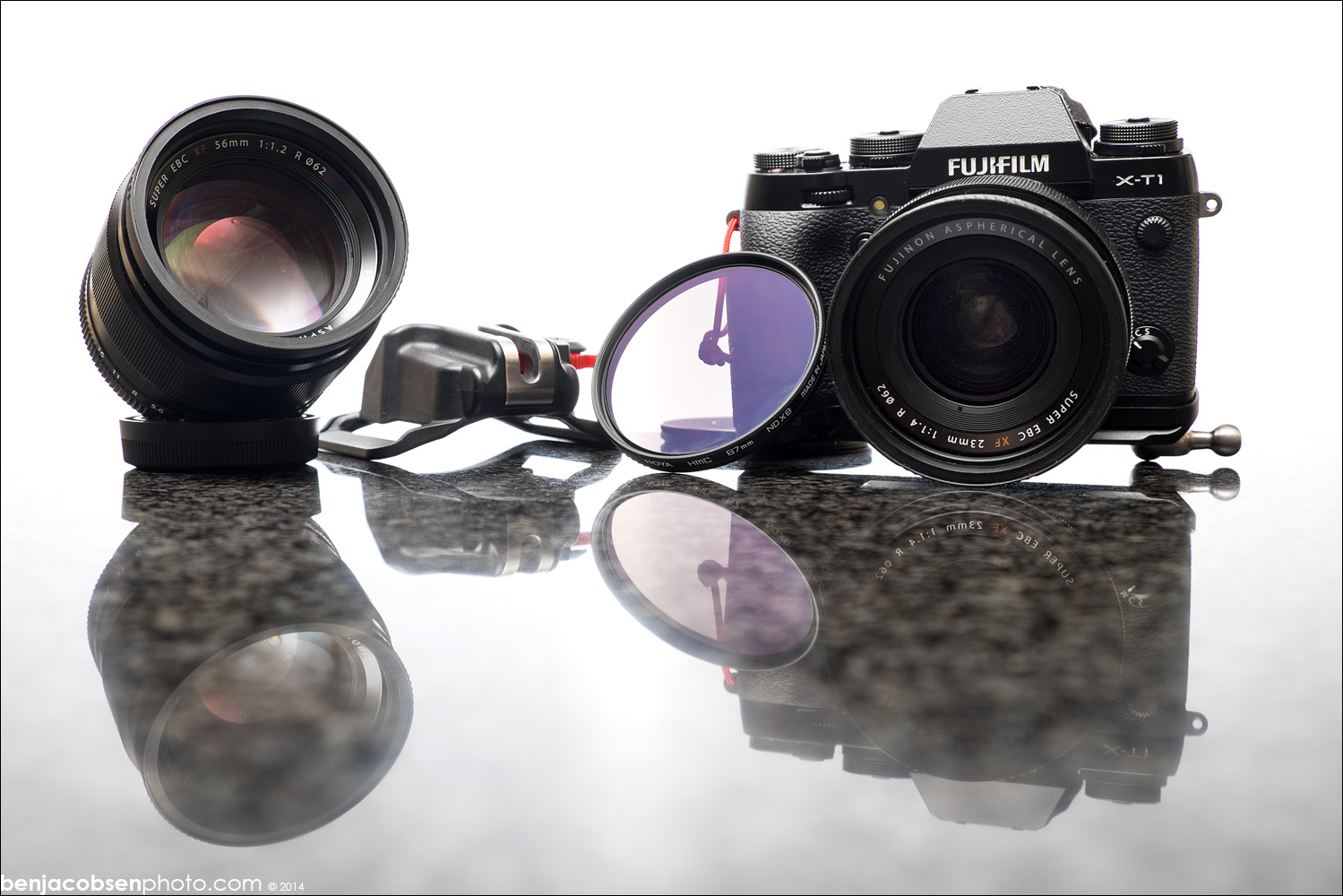 The EVF….  Oh the EVF!!!  People have gone back and forth on the quality of the EVF -vs- an OVF from other camera.  I'm not going to outright say it's better OR worse compared to the OVF in my old 5Diii.  It's different and in some ways better and some ways worse.  Worse is a shorter list so we'll start there.  It's contrast is higher than an OVF by nature but this also shows you your DR limits real time (ie if a grooms suit is going to be black or white puffy clouds will blow out).  You can also get information overload at times.  Yes there are custom option galore and a mode to turn it all off so it's just a matter of getting it setup the way you want it…  But then we get to the fact that it shows you exactly what the image will look like when you press the shutter.  With an OVF you'd have to dial in some exposure by your best guess (and if you do this enough it's much less of a guess), shoot, chimp, adjust and reshoot.  With the EVF you just change your exposure so it looks right BEFORE shooting, shoot and it's the same thing!  The image at the top of this post is a perfect example of this.
The image quality of these cameras is amazing.  I've tried lots of smaller cameras before, MFT, sony, etc.  But this is the first option where the image quality isn't sacrificed to get the smaller setup.  Fuji is known for their colors.  I shoot RAW exclusively so I don't see that quite as much as those that use fuji's amazing out of the camera JPEGs but they're still great.  The AWB is very good.  The DR is also very good.  The noise is great through 3200 and usable at 6400 provided you nail your exposure.  Fuji noise also have very little (I'd almost say none) chroma noise.  The luminance noise it has is more of the "film grain" style noise people will claim they like…  All in all this is the best APS-C sensor I've used.  It easily beats canon's best APS-C sensors.  I'd say it's about equal with a 5D mark II.  The mark III beats it a bit on high ISO noise but detail is closer than the numbers would suggest thanks to the amazing lenses and lack of an AA filter (the pixels you have are sharper but there's less of them).  Print for print they're very close.  The only thing I miss from my 5Diii is the ability to shoot at 12,800 but 6400 is good enough, especially considering my long lens is now a stop faster anyway.
When I shoot weddings I always have a spare body.  Personally I shoot with one body with the second in the bag typically as I'd rather swap lenses than swap settings on the "other" camera every time I pick it up.  So for me the XT1 is my primary camera and the XE2 sits in the bag for the most part.  I did put the rokinon 8mm on the XE2 and kept the 18mm nearby as needed.  But if you do shoot two bodies at the same time you're REALLY going to want them to match.  The biggest difference is the ISO dial on the XT1 -vs- the Q-menu based version in the XE2.  But the rest of the buttons are in different places and the feel of the rear 4-way is much different on the XT1.  Speaking of the rear 4way, it's terrible on the XT1.  I wish it had the very nicely responsive XE/Xpro buttons but it doesn't.  I've added sugru (basically silly putty that solidifies and sticks permanently) to mine which makes a HUGE difference.  One thing to realize here though is the IQ is basically identical between these two bodies and with the XE2's newest firmware it's refresh rate and AF are very very close as well so both will be equally capable.  But I'd highly recommend you'd use two of the same bodies if you want to shoot them at the same time.
Auto focus performance is one of the key areas the camera struggles a bit.  It's fine for anything that's not moving or anything in any sort of good light.  But once you get to 3200 type light you'll struggle a bit.  The nice thing is the camera will eventually lock focus, even in pitch black dark where a 5Diii won't at all.  But the reception dancing shots aren't as easy as with a 5Diii (but to be fair they weren't super easy there either).  One of the key things I've found that hurts the fuji though is that it appears the AF sensors aren't cross type.  All the sensors are the same and they're all spread nicely around the frame, but they all seem to not be cross type…  If you've got a nice contrasty target that crosses the screen the narrow way it'll focus fine.  But if it crosses the screen across the long way it'll struggle a bit…  Weird.
The camera also has a base ISO of 200 AND a max shutter speed of 1/4000th…  This is basically two stops it's giving up to a 5Diii or most traditional APS-C DSLRs.  This isn't crucial for a lack of noise, 200 is clean as can be.  I don't really need anything faster in terms of shutter speed for stopping action either.  But where I DO need it, especially for weddings, is to allow me to shoot wide open to get good separation in terms of DOF.  The 23mm lens is a f/1.4 and the 56mm is an awesomely fast f/1.2!  But outside with the sunny 16 rule and 1/4000th and a base of 200 we're stuck at roughly f/2.8 when outside in bright light with 1/4000th and ISO 200…  When I shot my 5Diii with a 1.8 and 1.4 lens I'd bang against it's 1/8000th limit at 100 as well but it'd be just enough speed to keep the exposure from being over exposed by more than 1/2 a stop or so…  Basically you're going to need a 3 stop ND if you want to shoot wide open outside in daylight.  I've bought a 67mm 3 stop ND and then put Xume magnetic rings on it as well as both my lenses.  I had to go to 67mm because xume doesn't make a 62mm setup.  I've also replaced both lens caps with 67mm metal caps which also have xume rings on them.  This setup allows me to quickly add the ND as needed outside but then just take it off and put it in the back once back inside.  Not as nice as a built in ND or having a 100 base with 1/8000th but it works quite well.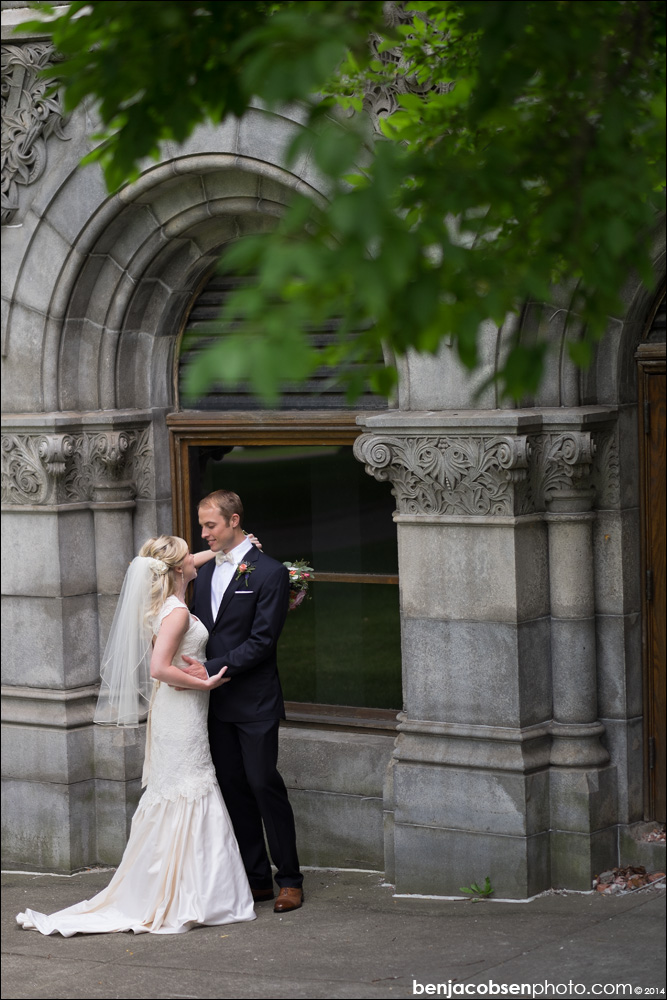 Battery wise using the fujis is a lot different than a 5Diii.  With the canon I'd shoot an entire event with a single battery.  Of course I'd bring spares but I never once needed them, not even when I've shot over 5k images.  With the fuji's I have 8 total batteries.  I charged 6 of these before the weddings leaving the 2 in the cameras as they were.  Of course the XE2 battery began flashing almost instantly when I started using it…  So it started with one dead battery and used another but barely.  The XT1 went for 500+ on each battery.  It ended the night on a fresh battery after using three fully.  So in total I "used" 6 batteries, but the first in the XE2 was dead to start and the last barely used at all.  So in reality I really needed 5 and used less than 4 in terms of total usage if that makes sense.  Long story short though you'll need plenty of spares to shoot a wedding.  I think 8 is a good number just in case.  These are tiny -vs- the size/weight of the canons so you can carry plenty.  I don't really mind the quantity needed to shoot a wedding.  I get that the batteries are smaller physically so their capacity will also be lower.  Combine that with the fact the camera uses an EVF and it's going to use power quicker potentially as well.  But please give us batteries that can sit on a shelf like sony's (their batteries will sit for months and work fine, fujis after a few weeks will die in ~50 shots).  Please also chip the batteries so the "gauge" is accurate in terms of what's left.  I don't like having 3 bars one minute then 1 a few later then red=dead shortly after!
It might sound like I don't like the fujis with it's need of and ND and slightly slower AF -vs- the 5Diii.  But this isn't the case at all.  I actually get more keepers from a wedding compared to the canon.  While you might wait for the AF to snap an image into focus a bit longer, you don't shoot as many out of focus images because you can tell with the EVF and you tend to always shoot with the AF tied to the shutter (so it won't shoot if it's not in focus if you choose).  So while you'll miss a shot from time to time what you do take is almost always in focus.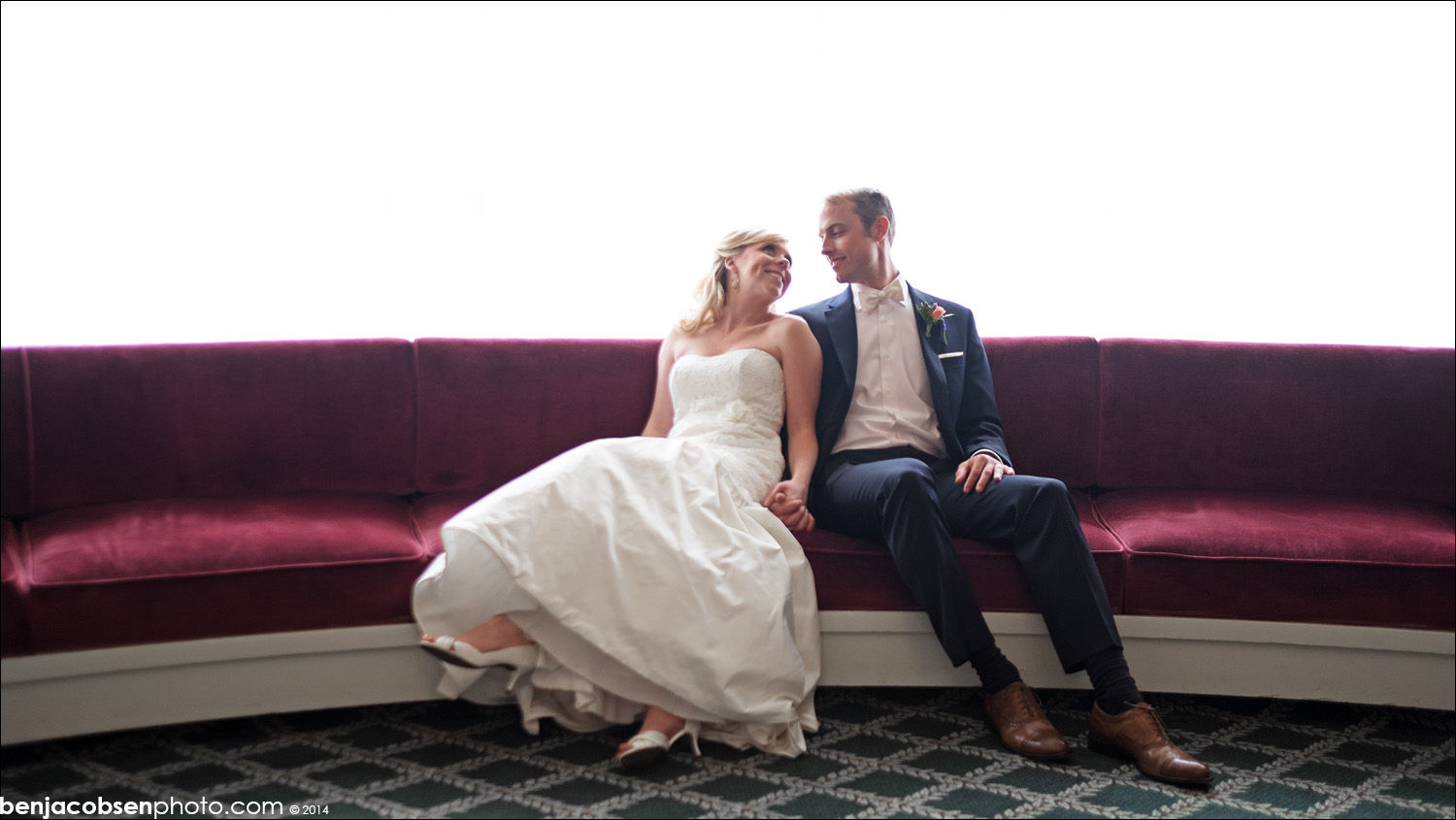 Flash work on the fuji works well.  One thing I've noticed is it uses AWB where canon had a dedicated flash white balance.  Flash sync is 1/180th which isn't the fastest but works.  I was using a canon 430II with my canon setup which is their smaller flash.  I'm now using neewer v850s which are the same size as canon's 580s.  While it's bigger the total weight of the system is less, but a bit top heavy with the larger flash on a smaller body.  The thing with the neewers is they're more powerful which means they recycle faster at the same output as my 430.  They also have a dedicated battery that's good for ~1200 shots which is AMAZING!  No more bringing loads of AAs to weddings.  They also have a wonderful fully manual wireless mode.  While they're slightly bigger than what I had, I've gone from one flash to two that are both twice as powerful and they come with bulletproof wireless.
I shot with my think tank photo lens changer 3 (as I did last year) with the XE2 in one sleeve with the 18mm and 8mm then a flash in the other tube and the spare lens in the third.  I've always loved this setup but it's even better with the fuji setup as it's lighter.  Other accessories included 10 total batteries for the fujis, my 3 stop ND on Xume magnetic adapter rings and my neewer v850 flashes with their wireless trigger.
Pros:
The EVF is amazing for wedding work.  Yes it's a bit different at first (seeing your DR real time is weird, especially with puffy cotton-ball clouds), but once you adjust you can make exposure adjustments on the fly and know you're getting the shot right the first time.
Small and Light!  Can't say this enough, but especially when you're carrying a camera around all day this is a great bonus!  Much less tired at the end of the night.
Quiet!  Not quite as quiet as canon's silent shutter option on the 5Diii but it's still a great quiet camera for working during quiet personal moment.
The 23 and 56 are awesome!
Will focus in pitch black dark (scenes so dark the 5Diii won't focus).
Tilt out screen can actually be awesome for getting some overhead or low angle shots.  I'm 6'4″ and still found myself using the screen to get some overhead shots, something that'd be impossible with the 5Diii and it's liveview AF.
The 

new SDHC UHS-II cards are CRAZY FAST (and expen$ive too!)

In camera RAW processing.
In camera WiFi, you can trump uncle bob at the social media game by WiFi-ing and posting a few teaser pics DURING (downtime at) the wedding!!!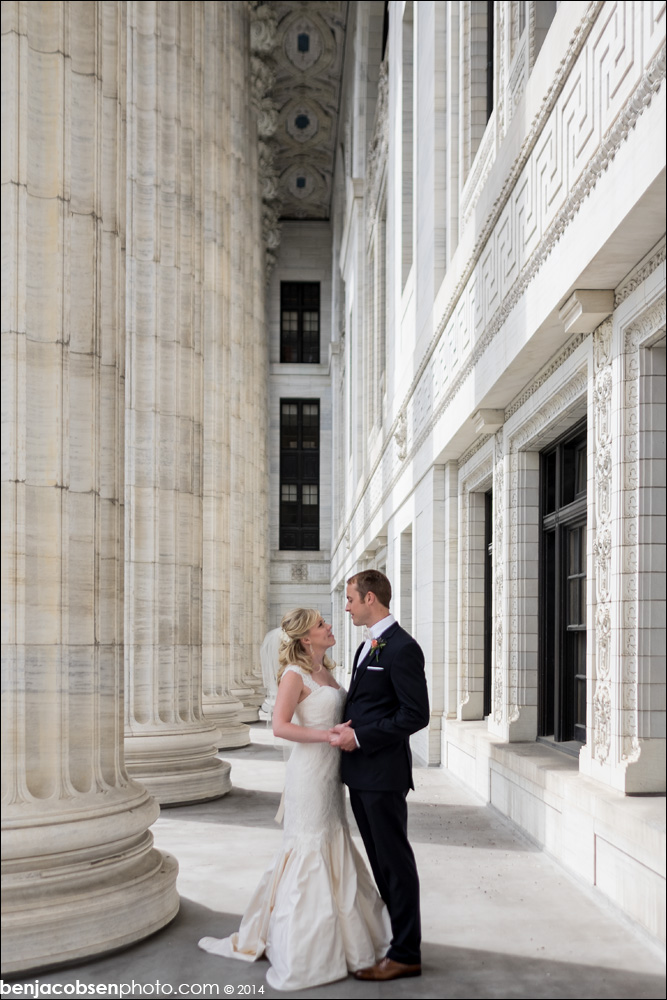 Cons:
Focus not quite as quick with moving subjects or in dim light (notice I said dim, in pitch dark it's actually better).  It'll lock on non moving subject but if something is moving it struggles a bit more.
Focus points are not cross type.  The camera will struggle in low light with contrasty points that run across the frame the wide way, but if they cross the frame the short direction it'll snap into focus.
1/4000th max shutter and base 2000 ISO means you'll need NDs to shoot wide open in daylight…
As cool as the dials are, and as easy to read as they are, once it gets dark they're VERY hard to read…  You'll have to look on your screen to see what you're doing, NOT at the dials.  This is an issue on dark dance floors or when going outside to do off camera flash work.
no dual SD card slot like the rumored version had…
The aperture rings on my 23 AND 56 are both loose enough they'll easily get bumped.  I've simply learned to make sure I'm pressing them into their wide open mark as I shoot but a much firmer ring would be ideal for me.
No flash WB?
Flash sync is only 1/180th
Needs a view mode with info but where none of the info is over the top of the image…
when it goes to sleep it's faster to cycle the power switch than it is to wake it by pressing the shutter…
Things Fuji needs to fix (via updates or in the next model):
Battery life, improve shelf life to match sony's
Smart Batteries, bars on screen needs to be accurate.  A shot counter like canon's would also be very nice.
Fast/Quick delete.  Canon has this, fuji has this, nikon as well.  In each system you have to turn it on in the functions.  Once one there's a quicker way to delete (typically it skips the "ok" step of the deletion).  But at least give us some sort of option where it doesn't assume I want to scroll through all my images and delete multiple frames every single time I want to delete an out of focus image….
Auto ND?  I've got a filter with magnetic rings but a built in option would be better.
Add 1/8000th as an available shutter speed.
give us a base ISO of 100, or in the very least let 100 be a RAW supported option (if it has to have less contrast forcing 200 to be base, that's fine, but give me a RAW file).
The mode dial switch can get bumped when moving the ISO thanks to the lock on the ISO dial requiring at least 2 fingers…  Once out of 'S' mode flashes won't work.
Maybe add some glow in the dark paint to the dial markings?
EVF diopter needs a mark so I know my relative adjustment and can reset it quickly once it's bumped.  I've taped mine to my setting (which is no setting at all).
The rear buttons are terrible, especially for changing the AF point and ESPECIALLY if it's up to your face….  I've since added sugru to my buttons and it's MUCH better!  But the XE2/Xpro1 buttons are SO much better.
Add the dual SD slots into the next version like the test mules had.  There's a dummy slot in the production X-T1 that makes it obvious it was meant to have this…
Add a specific flash WB…
faster wake up
faster flash sync
the rear buttons…
Don't let the above list fool you into thinking I don't like the fujis.  In fact I don't regret my switch in the least.  Fuji just has an outstanding track record in updating their cameras both in firmware updates (even after the camera's been discontinued and replaced!) as well as new versions…  Hopefully someone at fuji finds that list…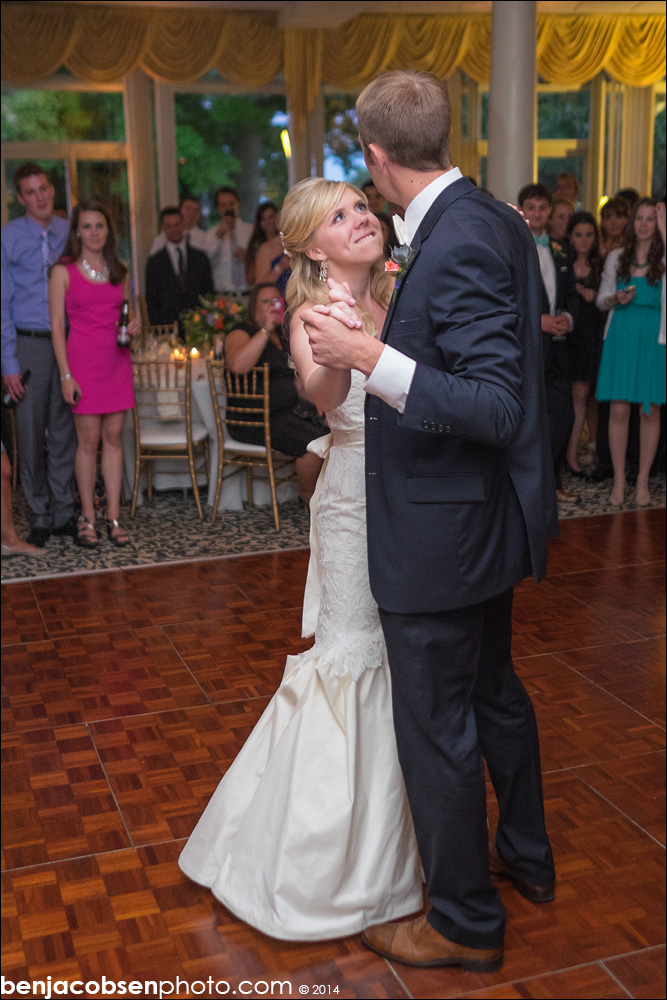 To wrap this up, the fuji system has finally matured to a point over the winter that it can now replace my canon system for how I shoot.  Image quality is there.  The lenses are finally there (I was waiting for the 23, 56 and 10-24mm).  The AF is good enough it works (AF can ALWAYS be faster, what matters is that you can get the shots you see as you see them and the fujis can).  These bodies are robust enough they can be used in demanding situations.  WiFi is an awesome addition as is the EVF (which I didn't think I'd like as much as the OVF from my 5Diii but I actually prefer now).  Metering and colors/WB are spot on.  The cameras just perform incredibly well and get the job done while saving me space allowing me to carry less weight and be more comfortable, less noticeable and quieter.
EDIT!!!  I've since shot a second wedding with a complete fuji kit since writing this review.  I'm just now publishing the review as the photographers I second shoot for have published the blog from the wedding (so I can now share the images online as well).  I also have some new impressions after shooting a second complete wedding with the same setup.  A few things changed this time though.  The XE2 went with the 18mm into my drone's case as an emergency backup.  It was un-needed and unused.  I shot with the XT1 on my hip all day with my spider holster and thinktankphoto lens changer 3.  I used the 23mm and 56mm almost exclusively (with the 23mm getting at least 2/3rds of the shots).  I swapped lenses as needed.  I used three batteries this time thanks to the watson charger.  I'd double checked every battery the night before topping a lot of them off from 75% up to 100% and a few were at 90%.  The two I use were both in the red when I switched but I switched as soon as they went red and I had the time to avoid missing something.  One was at 20% and the other 25% when they went on the charger the morning after.  I used two 32gb memory cards.  I switched the first out just before the ceremony and it had "200 shots left" at that point.  The second card had plenty of space when I was done but I would have needed 2 cards (I shot more than 32gb).  I used the rokinon 8mm FE a bit at this wedding as well which was nice to have.  I also used the 10-24mm for maybe 10 landscape shots as a thunderstorm rolled in.
I hope this review has helped your make a decision about the fujis one way or another.  I know I was on the fence for a long time thinking about the fujis as a primary setup.  Until I had both side by side I wasn't willing to make the decision.  Please feel free to ask any question either via email on the contact page or in the comments below.  I'd love to hear your thoughts!
Here's a list of everything I've mentioned in this review.  Yes the links are affiliated.  That means you spend exactly the same if you use them -vs- if you go to B&H and find it on your own, but in using mine I get a credit which is what makes these reviews worth my time.  So please use the links if you can!
EDIT Edit again!  Fuji has just announced the gray XT1 but has released some details as to what's coming in the december firmware that will bring some of the X100T features to the XT1…  The first of which is an electronic shutter that lets you shoot up to 1/32,000 of a second!!!  That's right, ditch your ND filters folks, they won't be needed anymore.  The second big thing in the firmware is the ability to change/modify/customize the Q menu (so I can ditch all those JPEG settings I don't use).