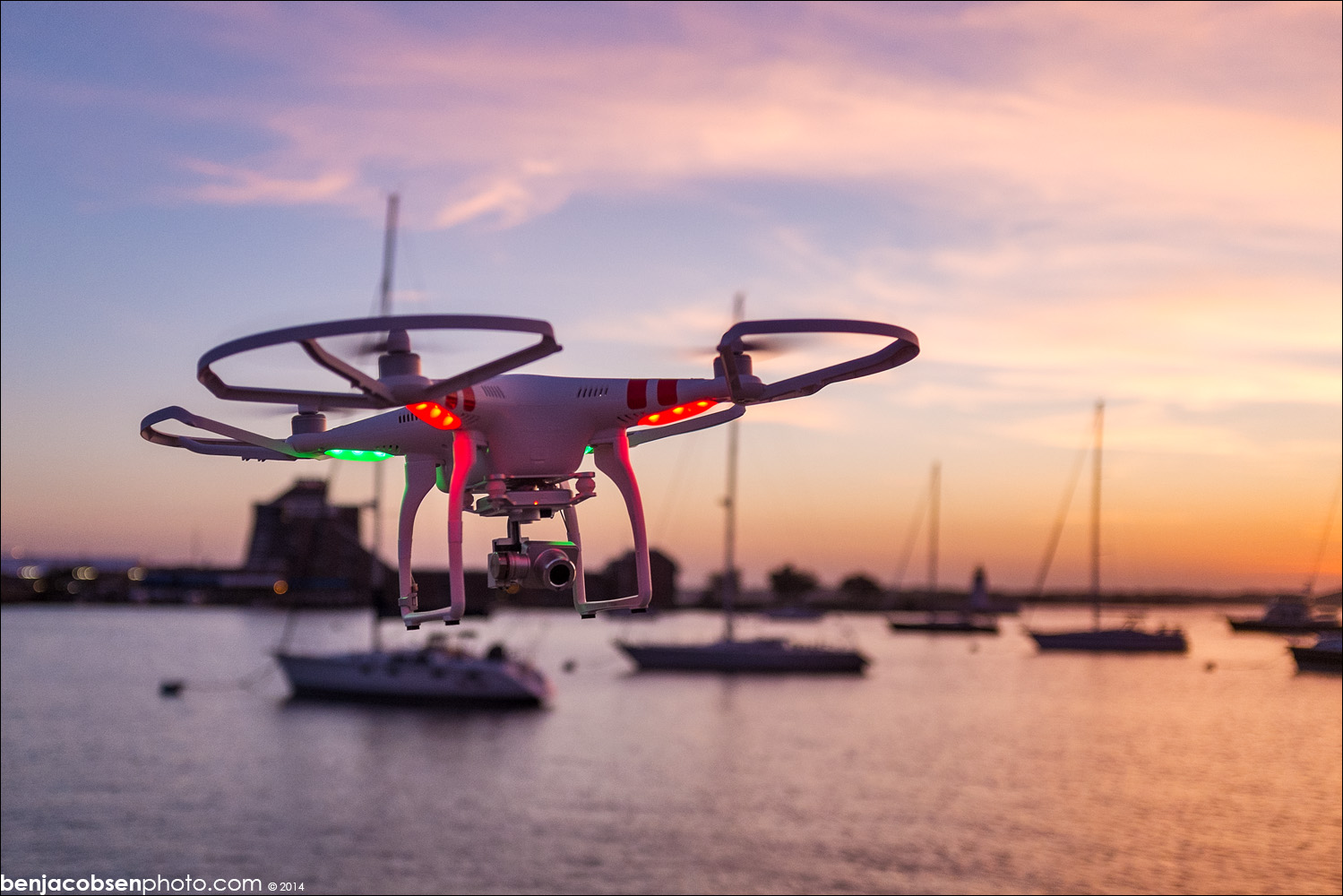 I finally jumped into (the deep end of?) the pool…  I bought a "drone".  I've been wanting to get into aerial photography for a long long time now.  I've seen the drones available for a while now and I've watched them mature into a product that takes images that are sell-able but also into a product that's somewhat easy to fly in terms of being able to not be terrified about losing it into the water.  It's still not what I'd call easy to fly and there's definitely skill involved but it's to the point where I'm already getting some decent shots from it.
This isn't really a review but more of a collection of my thoughts and some explanations as to why I went with the setup I did.  DJI makes the most well known drones in the photo business.  They're sold completely ready to fly.  Charge the battery, read the manual (no, really, READ IT!), get GPS lock and go.  They've got a few different versions though so it's worth sharing them with you and explaining the differences as I see them.  The phantom is their entry level option and it's a quad.  They make larger options that can lift bigger cameras but those are more expensive and not quite as user friendly.  Basically, they're something I might upgrade to if needed but hopefully not (the costs more than doubles to fly a small interchangeable lens camera and then doubles again for a DSLR).  DJI makes the phantom and phantom 2.  Basically the newer version flies 33.5mph up from 22 and can fly for 25 minutes up from 15.  You trade this for a more expensive quad and the batteries are also $150 each -vs- ~$20.  But for me the extra speed and time were worth the investment since I'm flying over water and in wind basically always.  I wanted the added safety net.  The next portion of the option I chose is that it's the "vision plus".  They also sell the vision as well as gopro options.  The vision is DJI's better camera and comes with a gimbal and FPV (first person video, I see what the camera sees via an app on my phone from the ground).  The first version had FPV but it was a much lesser quality camera and had no gimbal (so you'd get blurry shots at times but video was VERY blurry).  I could have gone with a gopro version but even providing my own camera that option is more expensive.  I also feel DJI's vision plus is a better still camera as it shoots in .DNG and there's a LR/PS profile for lens corrections in post.  You also get exposure compensation from the app while flying which is a huge help.  The gopro option is about $600+ more expensive as well.  The popular opinion is that the gopro's video footage is better as it's 4k and video raw capable but if you're only using regular old 1080p I honestly think the vision plus gives you better metering and better AWB so there's less to process in post.  Both systems are certainly good, but unless you need 4k or RAW I'd go with the vision plus personally.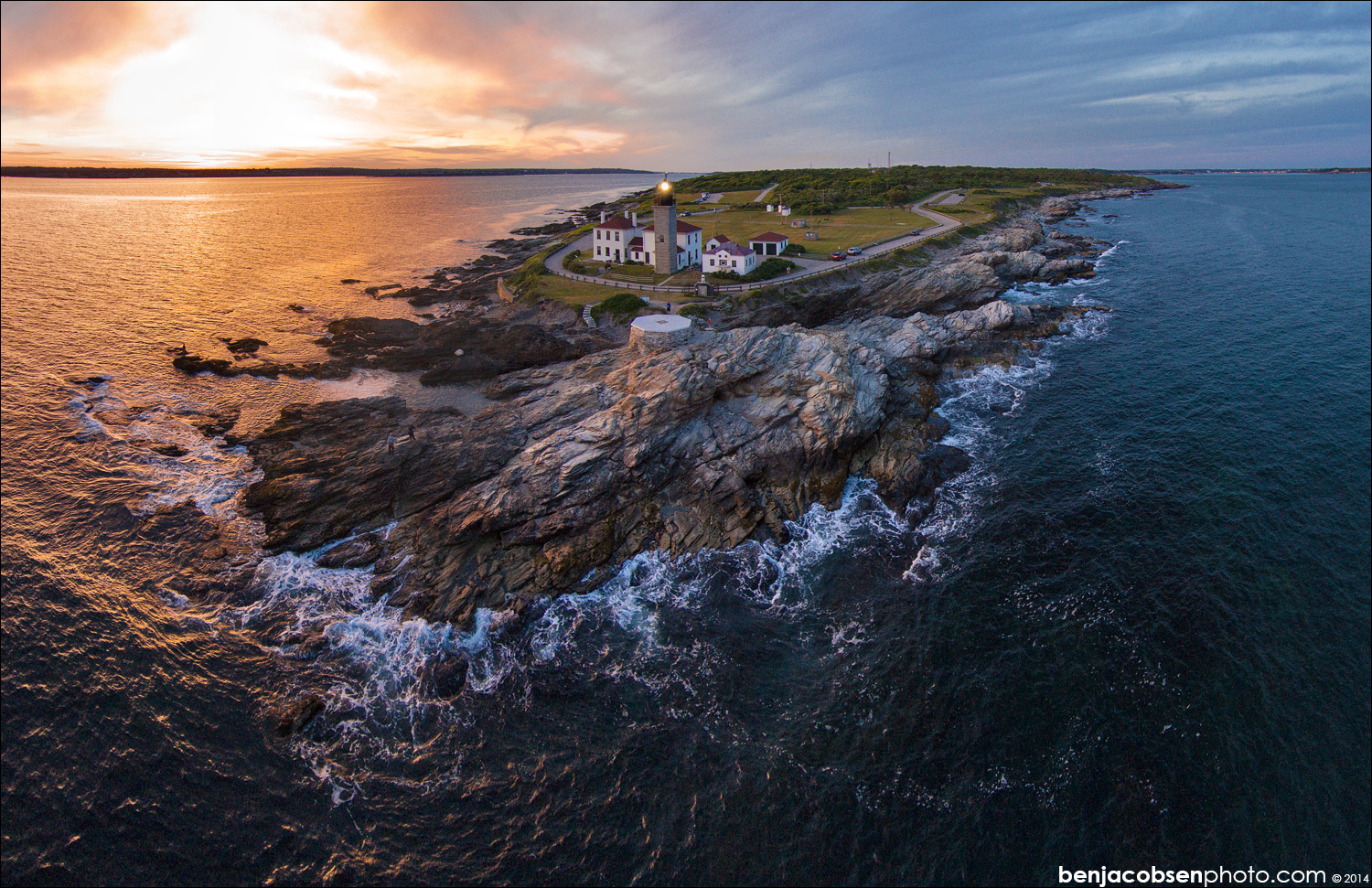 Upgrade wise I can already feel myself wanting a better camera as both the gopro and vision plus use very small sensors.  I want to get something on it that has an APS-C sensor and some bracketing options but I also want to keep the FPV working…  I'm leaning towards a ricoh GR but I've been reading about motor and rotor upgrades that could possibly let me fly one of my fujis or my sony NEX5…  I feel I need a lot more practice flying the phantom as is before I start adding weight to it or changing anything that'll make it more complicated.
I'll be posting a lot more from the phantom as I get more practice with it.  My goal is to use it for landscape and architecture work.  It's been a blast so far and draws a LOT of attention wherever I take it.  Feel free to drop a comment below or email me if You've got any questions.