Day 1
After having so much fun in Iceland last year, Nikki and I decided we had to go back, we had to go for longer, and we had to bring the kids! What an amazing trip. Bringing the kids changes the pace and makes things both more complex and more relaxing at the same time! It slowed us down a lot as we knew they weren't going to be happy with crazy long days driving. We also planned to stop at a pool each day so we could all relax. BEST IDEA EVER! I found the pools with water slides so the kids had a blast and of course Nikki and I got to soak in hot tubs while they played! As an added bonus this also gave us an easy way to shower each day without worrying about finding showers at each campsite. Of course bringing the kids also meant more planning on my part (finding pools, planning days more exact time and distance wise etc) but we had the best vacation we've ever had easily. Well worth it!
Day 1 we landed at the airport at 4:30am. We made our way through customs, immigration, and bag check, then off to the camper! We used rent.is again after having such a great experience last year. We rented the same size van (this time we had to pay for it, last year it was a free upgrade!) with queen bunk beds.
From the airport, we headed to Gunnuhver Hot Springs as it's about 30 minutes down the road and we figured at this hour of the morning we needed to get settled and then see something interesting to set the tone for the trip! The kids hated the smell but were pretty excited to see a hot spring in real life. From there we went to the Brimketill lava rock pool and then drove past the Blue Lagoon so we could see it's amazing blue water (we didn't stay).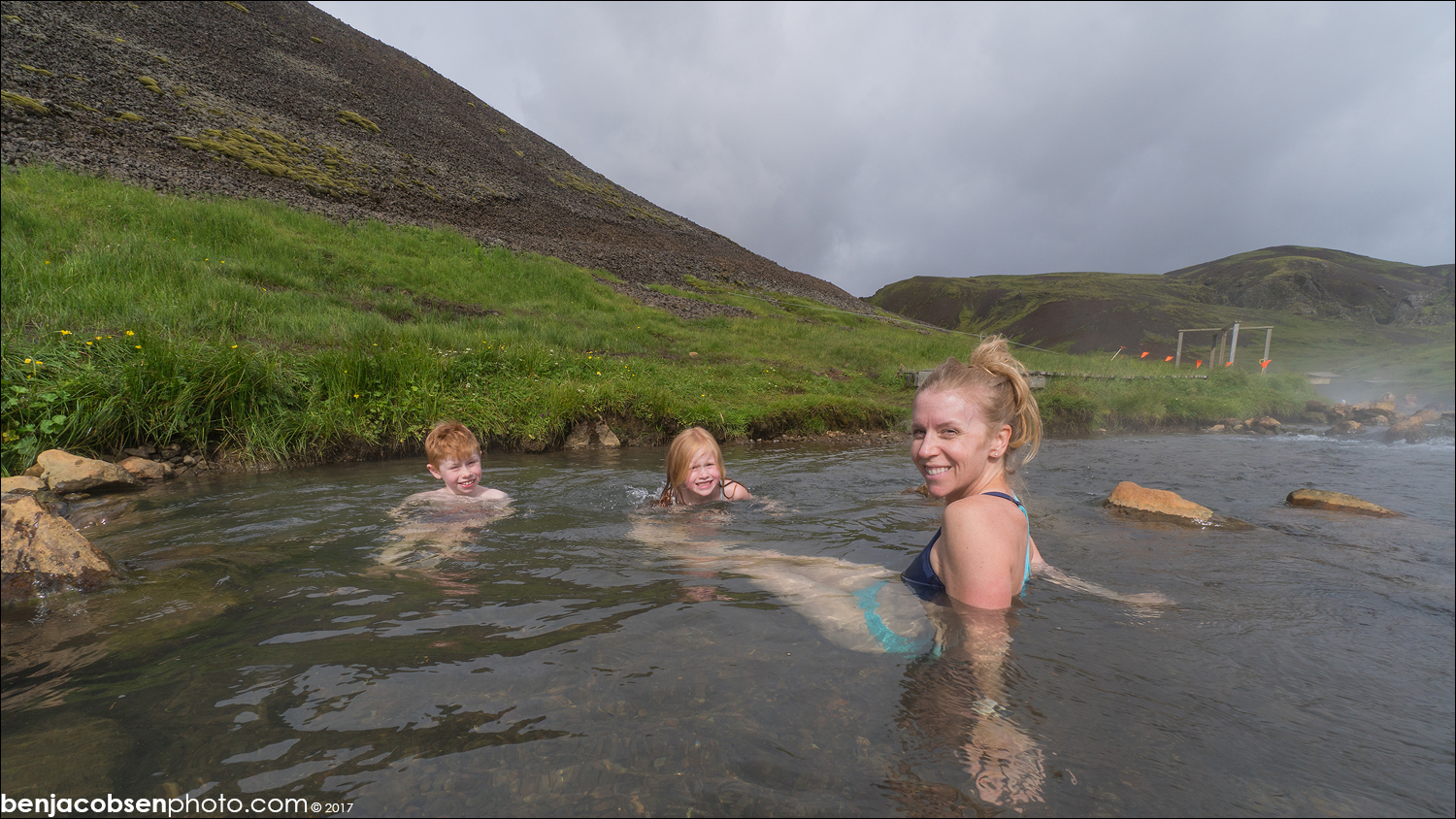 From there we headed off to Reykjadalur. Each day, along with a pool, we tried to also do a fun hike as well. Reykjadalur is a hot spring/river you hike into. The hike took us the better part of an hour and we struggled with the kids and all of us being tired but the end goal was worth it! We all LOVED just relaxing in the river!!!
After Reykjadalur we headed off to Selfoss where we had some amazing hotdogs at "the best hot dog stand in Iceland" according to the guy Elias and I sat next to on the plane! And there are a LOT of hot dog stands in Iceland, AND he was right! We also did our first grocery shopping which was a bit of a chore as we were all fading fast…. So we wrapped up our shopping ASAP and headed off to the Selfoss pool! The pool was a ton of fun and was perfect for a bunch of tired travelers! The kids loved the slide and warm pools (their normal/cold pools are what I'd call warm, they're all in the 70s or maybe even 80). Nikki and I relaxed in all the different temperature hot pools.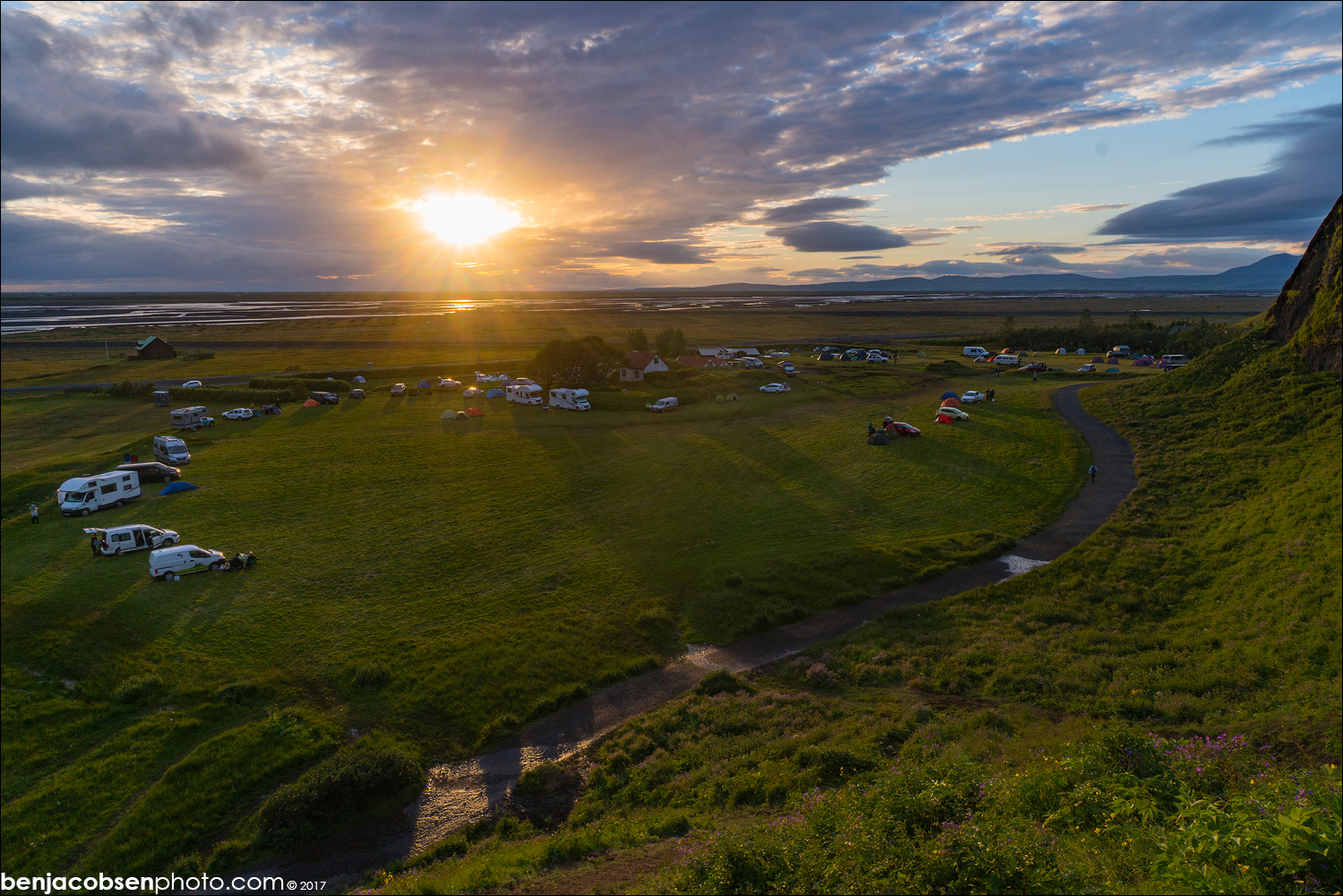 Selfoss we headed off to the Gljúfrafoss which is the same site we stayed at twice last year. We knew the kids would love the waterfall at the site and we liked the fact we knew the setup. We took a few hour nap as soon as we arrived. We then took a quick walk and bathroom break (it probably took an hour with all the exploring/hiking we did!) and went back to bed for the night.