I try to put one of these lists together every year. These are my suggestions for the best gifts for photographers that I've found this year. Some of these images are my own, some are from the product pages from their respective websites. Links are affiliated where possible (this means I get a small % of the sale, you pay the same price) to help support this site. On to the list:
Short list of links/prices, read on for full descriptions!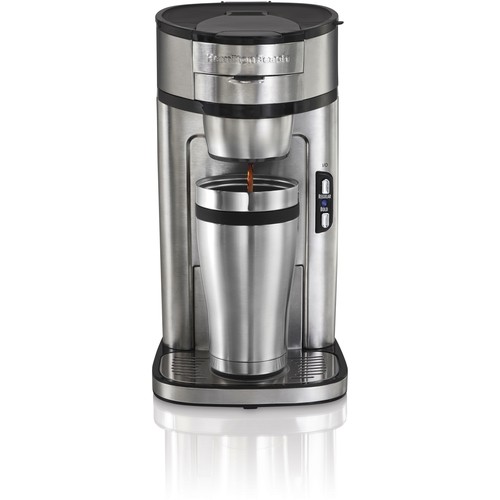 This might seem a bit weird, but we all know landscape photography doesn't happen in the middle of the day! I'm sure we're all using some coffee to get us going… My wife and I switched to this single brew setup from Hamilton Beach last year over a Kurig. It's much smaller and has less tiny places to clean. It also uses ground in it's own stainless steel scoop which means you DO NOT NEED k-cups anymore! Better for the environment, flavor and your wallet! And it's <$30. Buy it on amazon here.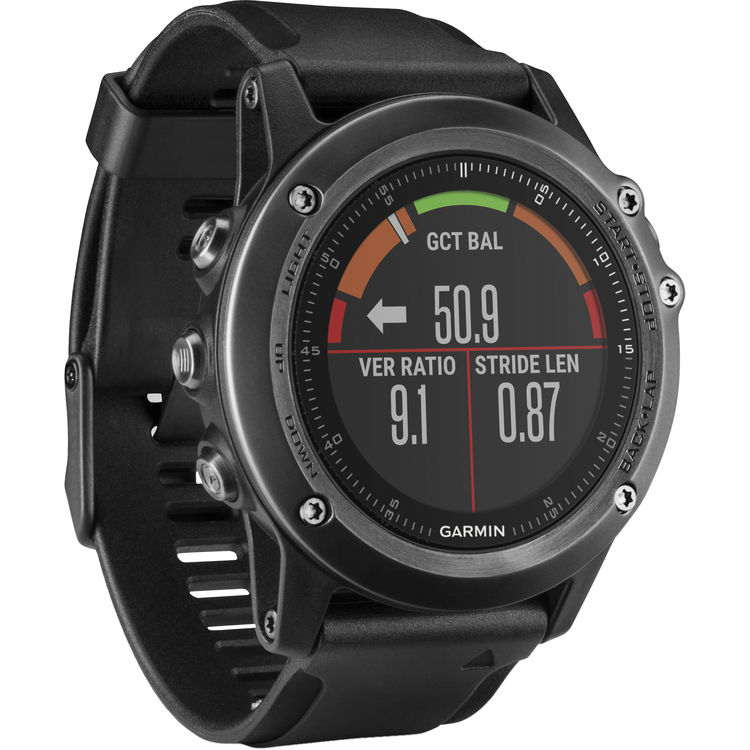 The second item on the list is another that's not 100% photo related but something I've added to my kit this year and really found useful. A smartwatch. Now you don't need to get the exact watch I'm using, you'll get the benefits from most smart watches. I have a garmin phenix 3 personally. I bought it to track my running and riding when my tomtom runner broke this summer (thanks to REI for the full refund/credit there!). I wasn't sold on the "smart" portion but it's one of the better GPS watches. Then I got it, set it up, and haven't taken it off since! It's not a Dick Tracy watch like the apple's, no phone calls can be made with it or texts send. But you get a display of texts, messages (FB) and emails on the screen. Incoming calls have caller ID on the screen and you can answer them via buttons as you pull out your phone. The best part of the garmin is it's battery lasts almost an entire week for me (running once a day and with bluetooth and wifi on all the time) AND it's waterproof. You can buy it on amazon here and B&H here.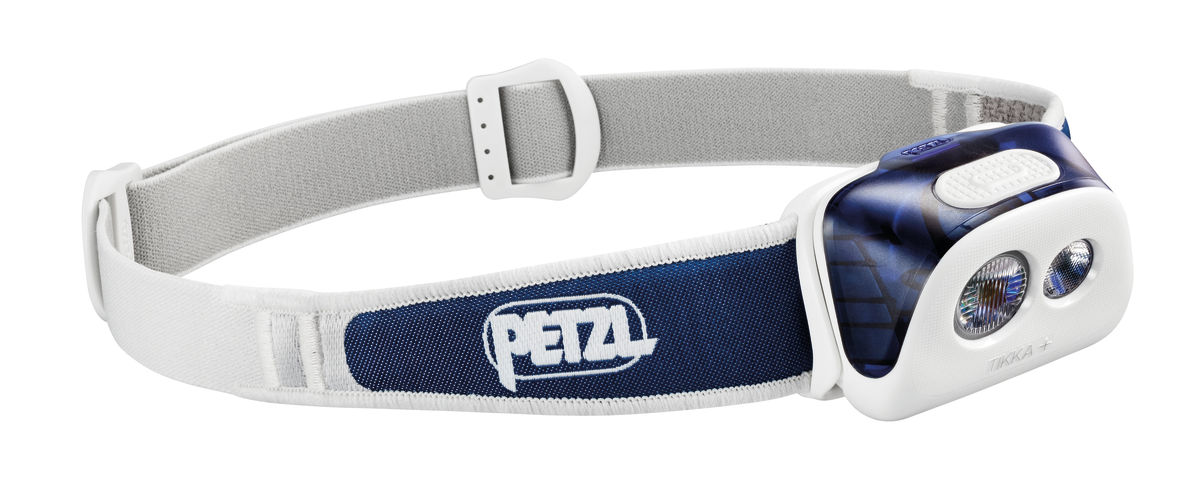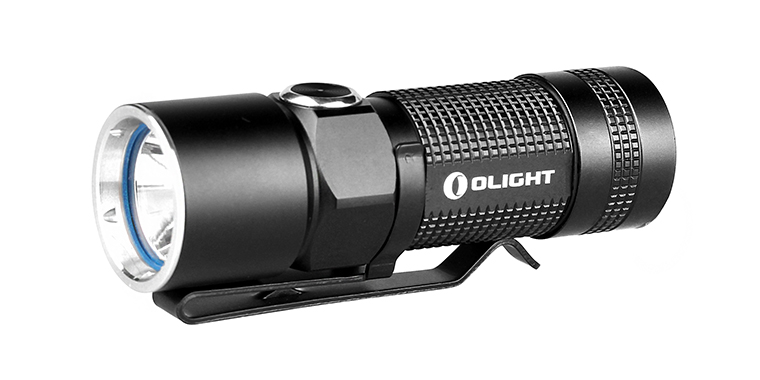 The next two items are something I can't live without and it seems I'm re-buying them every year… Flashlights and headlamps! I'm not sure if it's me or if the kids "borrow" them or what but I can never have enough flashlights around. My favorite flashlight is the o-light S-10. It uses CR123a batteries which can be a bit of a hassle at times (not available everywhere) but I buy a brick of them from amazon and keep a spare in each camera bag (with my business cards). The bonus is they're small and I typically only replace them once every 6 months or so. This light has a ton of power options, a great little clip and it's power button is now recessed (earlier version it wasn't and it could turn on in your pocket). The o-light also has a magnetic base which can be handy at times. You can get it here from amazon. A headlamp is another useful item. I prefer options that use AAAs -vs- the USB rechargables for price reasons and the fact I can find AAAs to put in it if the kids have used it w/o my knowing leaving it dead… The tikka+ from petzl also has a red lamp which I love for keeping my night vision while using a light. You can get it from amazon here.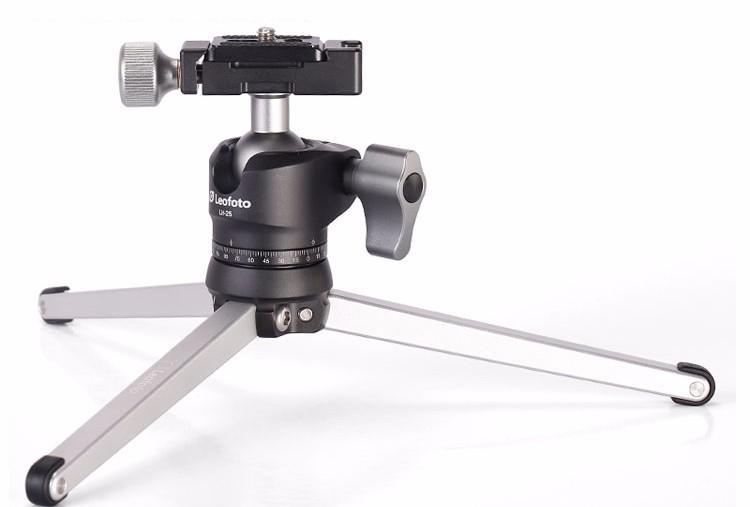 The next item on the list is the leofoto LH-25 ballhead and their mt-01 table top tripod. I've been starting to do more video and timelapse work lately and it's amazing how many tripods and ballheads you need when you're using 2~4 cameras at the same time. This combo is ~$50 from amazon (not prime, it took 11 days from order to delivery for me to get mine from overseas). It's rock solid and very well made. These aren't knock offs of RRS products but they are quite similar (they've tweaked some things probably to avoid legal issues?)… The biggest difference is actually that the LH-25 ballhead has it's locking knob higher up on the body and it's "ears" are slightly shorter so it doesn't hit the tripod or clamp nearly as much in use as the RRS bh-25 (which I also own and have issues with). You can buy the pair on amazon here (not prime but about 2 weeks delivery) for an amazing price or the lh-25 ballhead here prime and the mt-01 table top tripod here also prime. I'm using the LH-25 with a RRS lever clamp on my travel tripod but I also have another on this very table top tripod that I've been using for my timelapse work. These are also great for those places where you "can't take a tripod" but you can slip this into your pocket and use leaning against a wall to still get some amazing images.
Next up is something I'd been looking at getting for quite a while now but didn't purchase until this year. A Really Right Stuff multiclamp. It's basically a clamp that can open from 0.6″ to 3.5″. It's got both a fine tune and gross adjustment knob which makes it fast to setup but also easy to make sure it's secure. This is one of those things where you might not see the need but how many times have you been somewhere with a railing blocking your ideal tripod placement or even preventing it altogether? I've run into this before but Iceland was the trip that made me realize how important this is. I did NOT have the clamp and was left leaning my tripod against railings more than once and angling the "back" leg down to vertical and then standing on it's foot… LESS THAN IDEAL! Now with the clamp I've found more uses for it than I thought I ever would as my main support. It's also great as shown above for a second camera for timelapse work or for comparing two cameras easily (something most people won't do but I do more often than I'd like). This is NOT a cheap piece of kit at $100+ and it's in the price range of some of the travel tripods I reviewed earlier this year but it'll support a ton of weight and there's really no other option (manfrotto makes something take holds much less weight, opens to 1/2 the range and is still half the price). You can get the clamp only directly from really right stuff here. Pair it with the ballhead of your choice. RRS has a very neat/cute/tiny microball that I actually ordered mine with but it's range of motion is limited w/o a drop out notch so I sent it back. I've found I much prefer using it with a RRS BH-25 as shown above or the leofoto LH-25 also shown above. Because I prefer RRS lever clamps (shown on both above) the cost difference between the two isn't massive once you add the clamp so I have both. But if you don't mind knobs I honestly prefer the leofoto option as it's locking knob works better/gets in the way less -vs- the RRS BH-25. The multiclamp with work with ANY ballhead you own though, so if you're using it only when tripods can't be used due to a railing, just spin off whatever you're using on your tripod an put it on the end of the clamp.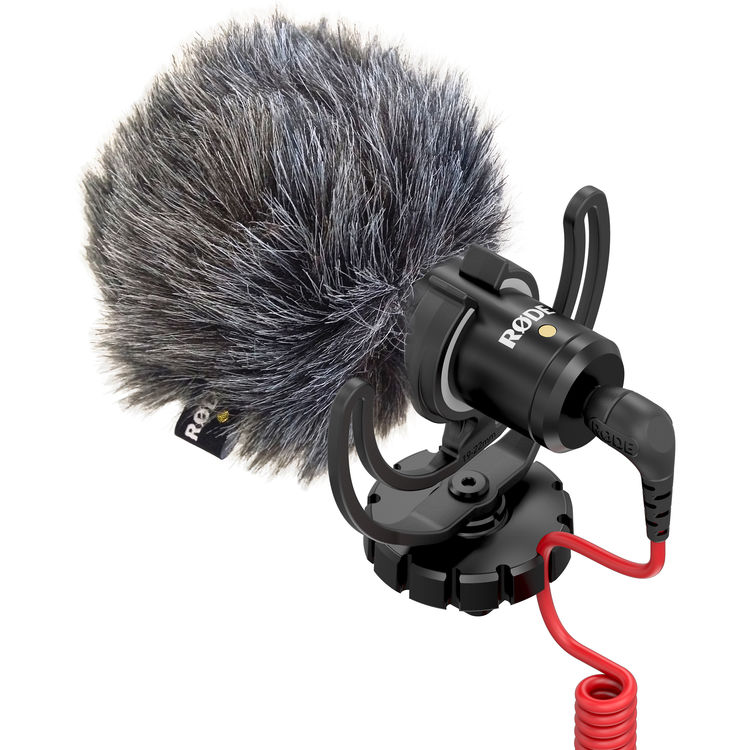 I've been working on more video reviews and with video comes audio. I've been slowly improving my audio and this new rode videomicro has been a part of that. One of the issues you'll run into with audio is it seems each camera company has a different philosophy towards audio. The big canikon DSLRs have inputs for standard mic sizes so this will just work. Fuji uses a smaller 2.5mm input so you'll need this adapter to make the rode mic work. I'm using that exact setup on my X70 for example. Then sony has it's multishoe/hotshoe an no mic inputs on a lot of their older cameras. So with the a6000 you're out of luck with this rode option and would need either this guy for on camera audio or this for an off camera option (I use it and it's great for video reviews). The sony options are both much more expensive -vs- the simple rode videomicro AND the rode comes with it's own "dead cat" (the fuzzy looking hairball that kills wind noise). Now with the full frame sonys and the a6300 and up there's a mic input so you can use the videomicro there. Buy it here from amazon or here from B&H.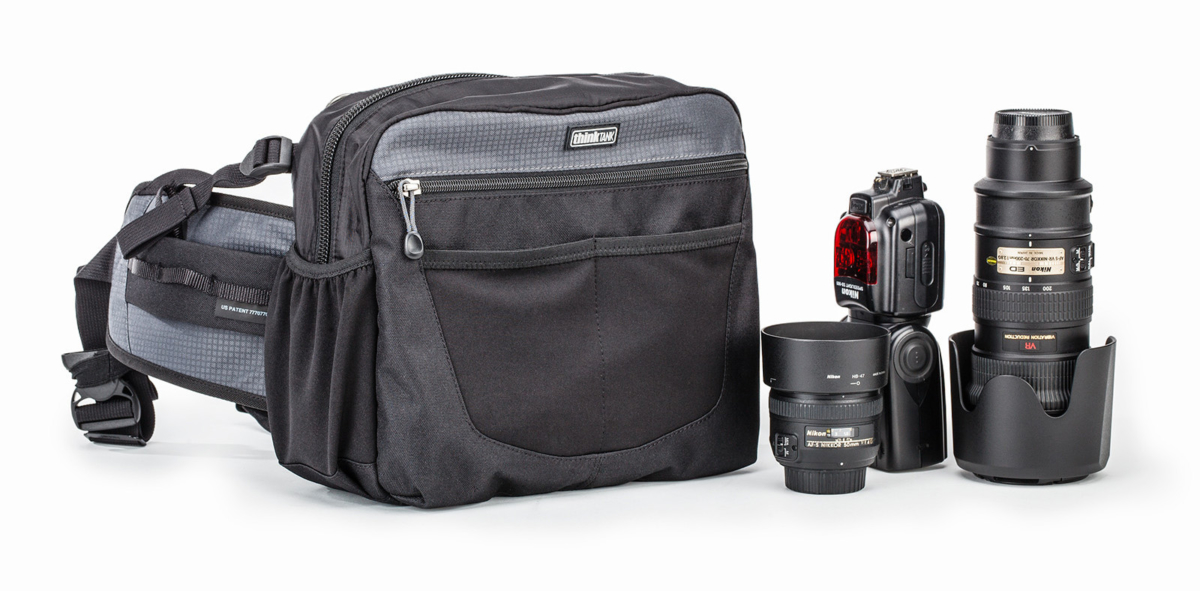 This is another new item to my kit since Iceland… A small bag that's specifically designed for shooting out of more so than transporting gear. It's the thinktankphoto change up. It can be a belt pack, a shoulder bag or a chest pack. The issue I ran into in Iceland was we were constantly driving around and jumping in and out of the van to shoot. Grabbing my large backpack and then needing to set it down to get at my gear was both slow and annoying and dirty (setting it down near waterfalls where it's typically muddy). This bag isn't a replacement for the backpack or even a messenger style bag to get your gear to an exotic location on a plane. It's more something you toss in your larger clothing bag empty and load once you're there. But it's small and light and makes it very easy to do lens changes and access all the little things you need while shooting. I have a peak design capture clip on one of the side belt straps and my mindshift filterhive on the other. This gives me a place to store the camera with quick access as well as an easy place to get at my filters. I use both the shoulder strap on it's own as well as pairing it with the belt option to keep the bag from swinging around while getting into low angles with it on. It's been an amazing and versatile bag for me. I'll also be skiing with it chest mounted this winter and it's replaced an old mountainsmith bag that did that for me previously. You can buy it direct from thinktank here, from amazon here or from B&H here.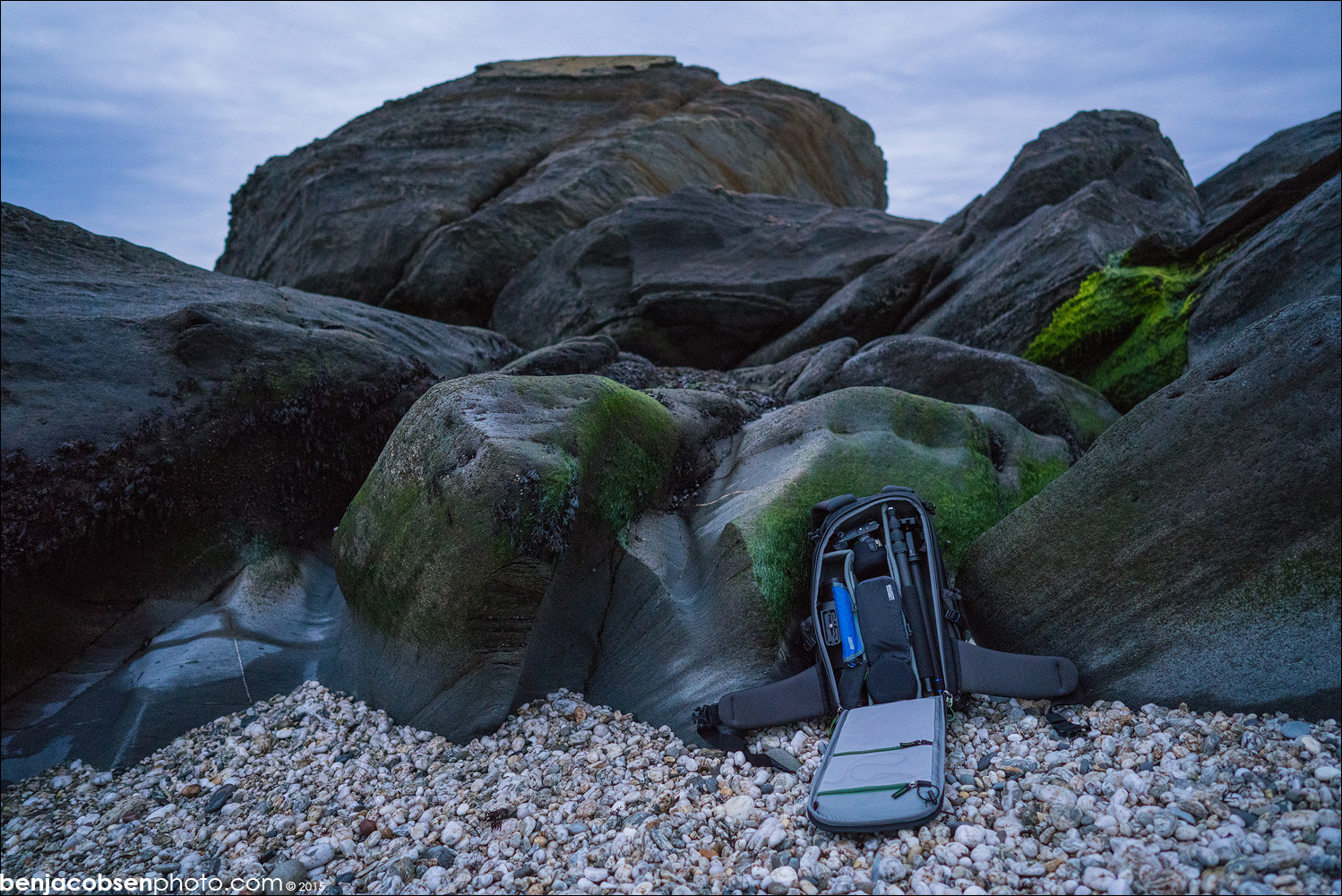 The mindshift backlight 26l is my suggestion as the best photo backpack available for all around use. It's got plenty of room for your kit, your extra bits and can get your laptop from point A to B protected as needed as well. It's also relatively compact considering what it can carry and easily goes onto planes as a carry on bag. You can read my full review here. Buy it from amazon here or from B&H here.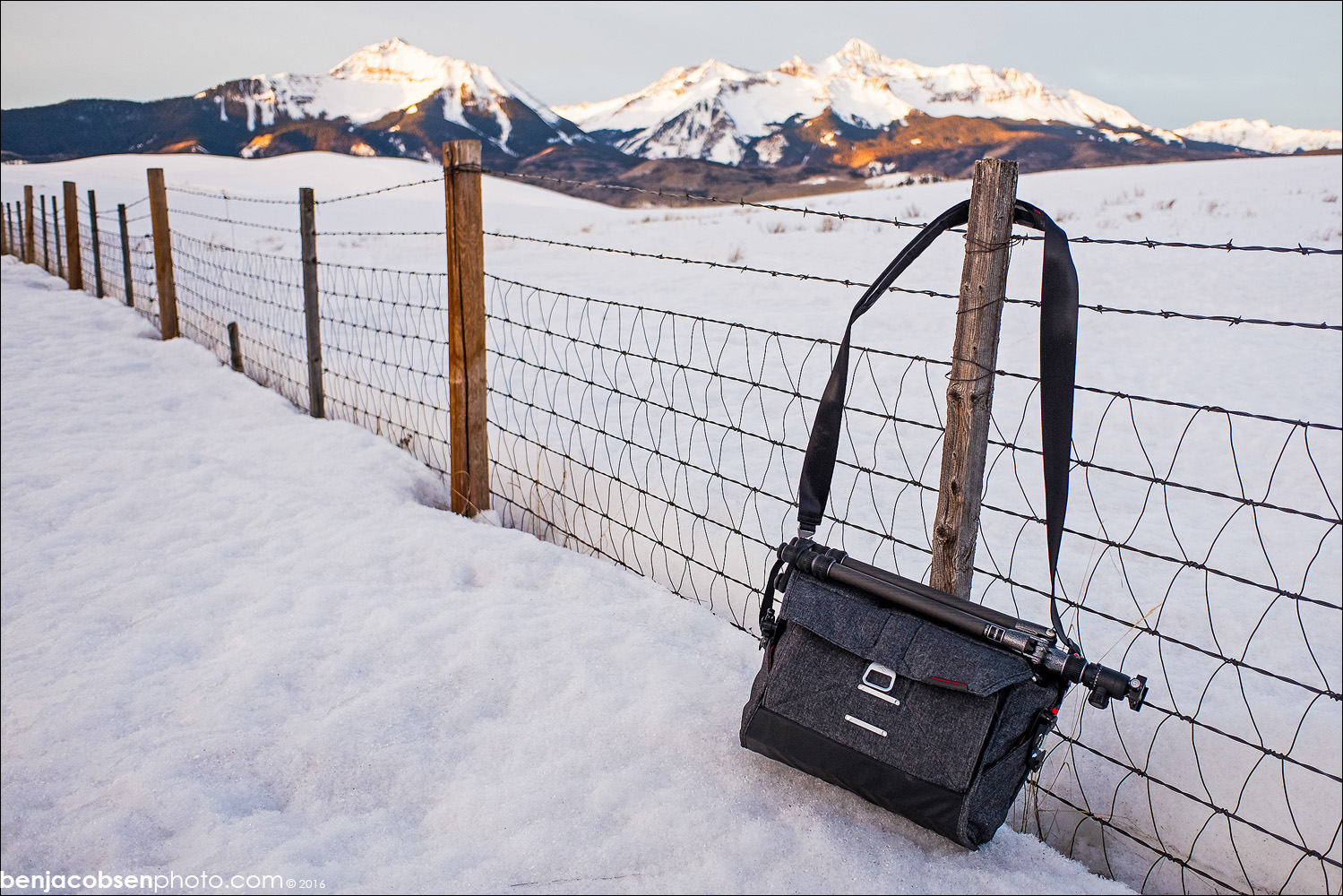 The peak design every day messenger is the other bag that I "can't live without". This bag has actually allowed me to get down to three total bags at this point (backpack, peak messenger, thinktank change up above). I use it when I travel as it fits my 15″ macbook pro. I use it when I shoot weddings as it's dividers are amazing and it works perfectly to shoot out of. If it was a tad bit more flexible I'd actually replace the thinktank change up above to shoot out of for landscape work but it's a bit stiff thanks to it's laptop protection making it so it doesn't rotate from front to back with the hip belt on very well. Long story short though it's the best messenger available. The tripod carry slot is amazing and the whole thing is tiny even when LOADED with my sony kit making it an ideal bag for carry on with camera gear and or a laptop. Get it on amazon here or B&H here. It's available in two colors (gray above or "heritage tan") and two sizes (the 15″ I have an slightly smaller 13″ for smaller laptops).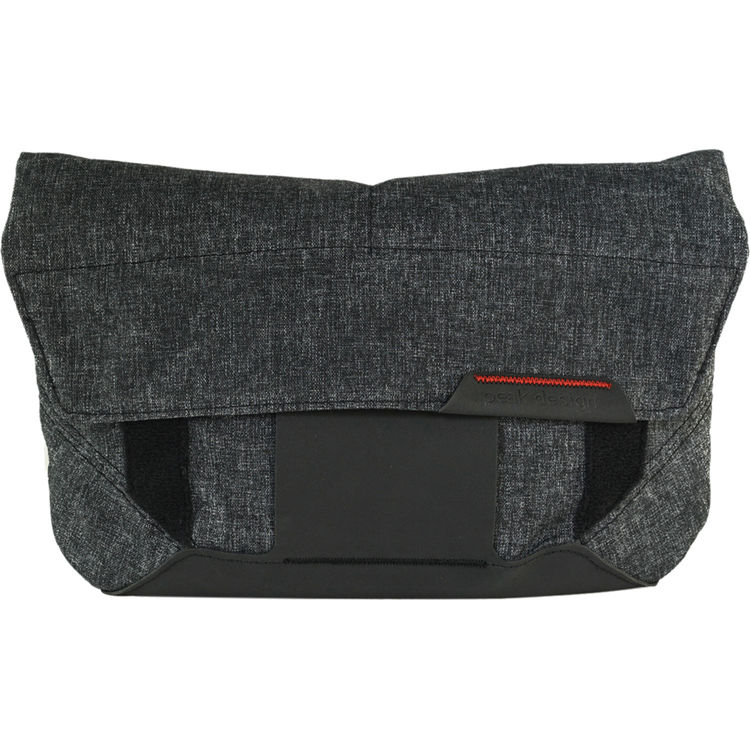 The peak design field pouch is one of those things that has grown on me. I got it with my EDM kickstarter and it didn't really fit anything when I first got it. Since then I've found various uses for it and I've actually ordered another one! I use one for for my small support bag. It holds the table top tripod from above with a ballhead, my nodal slide as well as my really right stuff multiclamp. This allows me to just toss this small bag into whatever bag I'm taking with me and know I have all my support options covered. And because all those items are metal and bulletproof they're the type of things you don't want just drifting around your camera bag with your cameras and lenses. This pouch keeps them organized, easy to find and protects my other gear from them. My other use for my second bag is to hold my small vlogging setup. That's currently my fuji X70 with spare batteries and my rode videomicro. It's a perfect little bag to keep all of that organzied. You can also add any of peaks camera straps to this pouch to convert it to it's own micro camera bag. Get it on amazon here or B&H here.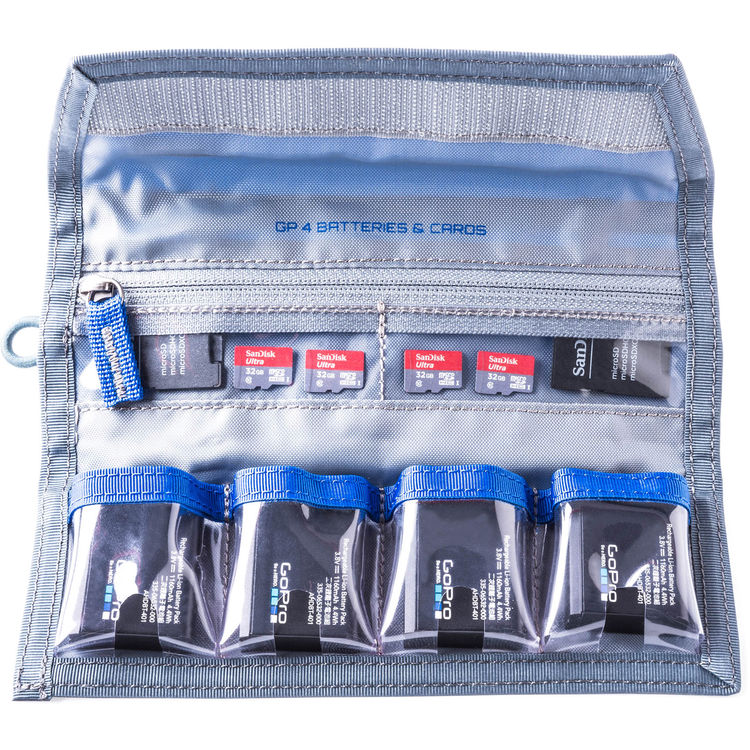 The next two items are two things I (try not to!) don't leave home without… My battery holder and memory card wallet. With mirrorless cameras I've found the mindshift battery holder (it's designed for gopro batteries) to be the best fit. It has clear holders for the batteries so I can organize then in a way I know which are charged -vs- dead. Right side up and blank side out means charged, terminals up and text out means it's dead. It has room at the top that perfect for micro SD card (for the gopro or drone). SD cards technically fit but it's a tight fit and I prefer to keep them in their own wallet. You can get the mindshift holder on amazon here or B&H here. To go with the battery holder I use a lenscoat SD9 memory card wallet. Lenscoat offers these in a bunch of different colors and sizes (to fit CF cards as well). I have the basic black SD9 that holds 9 SD cards (probably obvious). What I love about these memory card wallets is that they're tiny as well as the fact they kept closed with an elastic band vs velcro or a zipper. So they're fast easy and quiet to open (nice during a wedding). I wish the battery holder had the same option… You can get the memory card wallet on amazon here or from B&H here.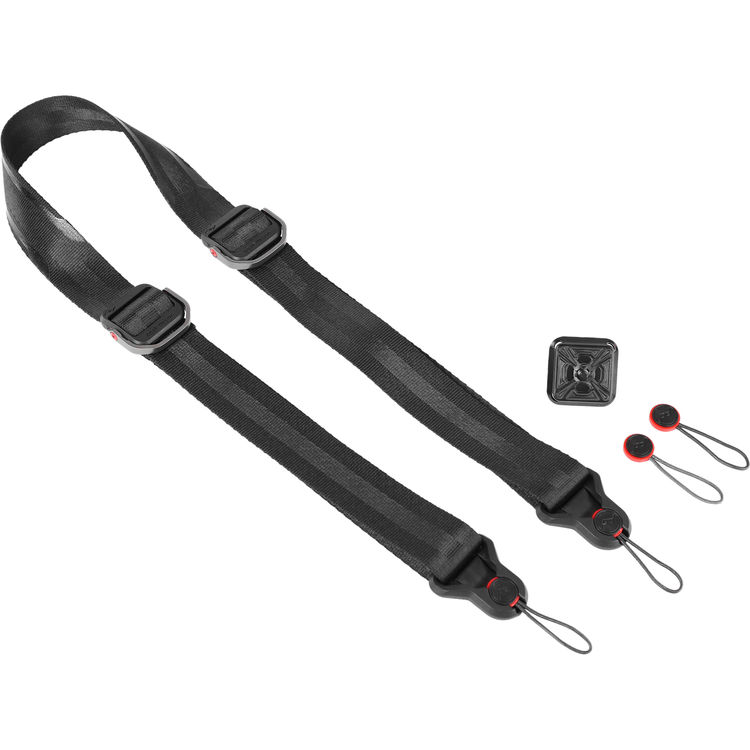 Another peak design item I love is my peak straps. They come in lots of different options, both widths and colors and even hand straps. The best part is the quick connect system they've come up with. I do NOT always use a camera strap. To be honest I probably use one ~10% of the time. I don't like them causing vibrations as they blow in the wind during landscape shoots and with kids in the house I'm always worried someone will accidentally pull a camera off a counter by grabbing the strap. Because of that they need to be easy to attach and remove. Peak has sorted that out wonderfully and all my camera have that little red dot you can see above on them. I can then add their hand strap or full strap as needed. I've even used their thin strap on my drone remote. Get the slideLITE on amazon here or from B&H here.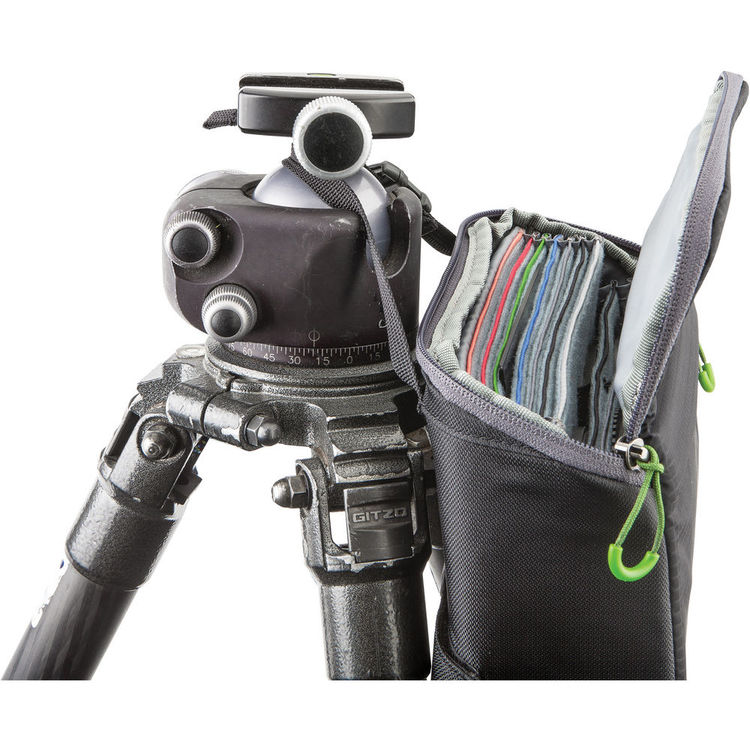 Last but not least is my filter kit. I keep my filters in my mindshift filterhive. I've been through a TON of filter wallets/pouches and this is by far my favorite. It goes onto belts or can just be kept in your bag. The filter sleeves are even removable. I love using it's strap as shown above to attach it to my tripod so I have quick and easy access to my filters. You can get it on amazon here or from B&H. Regardless of which filter holder you use I love my lenscoat medium hoodies to so I can leave my filter rings on my lenses all the time. Such an amazing time saver!
These are all things I personally use. I haven't done full reviews of them simply because they're small items in my overall kit. I know photographers like to see lists of things that can make their lives easier but friends of photographers also love ideas for holiday gifts. Feel free to share this list and add any suggestions in the comments please!