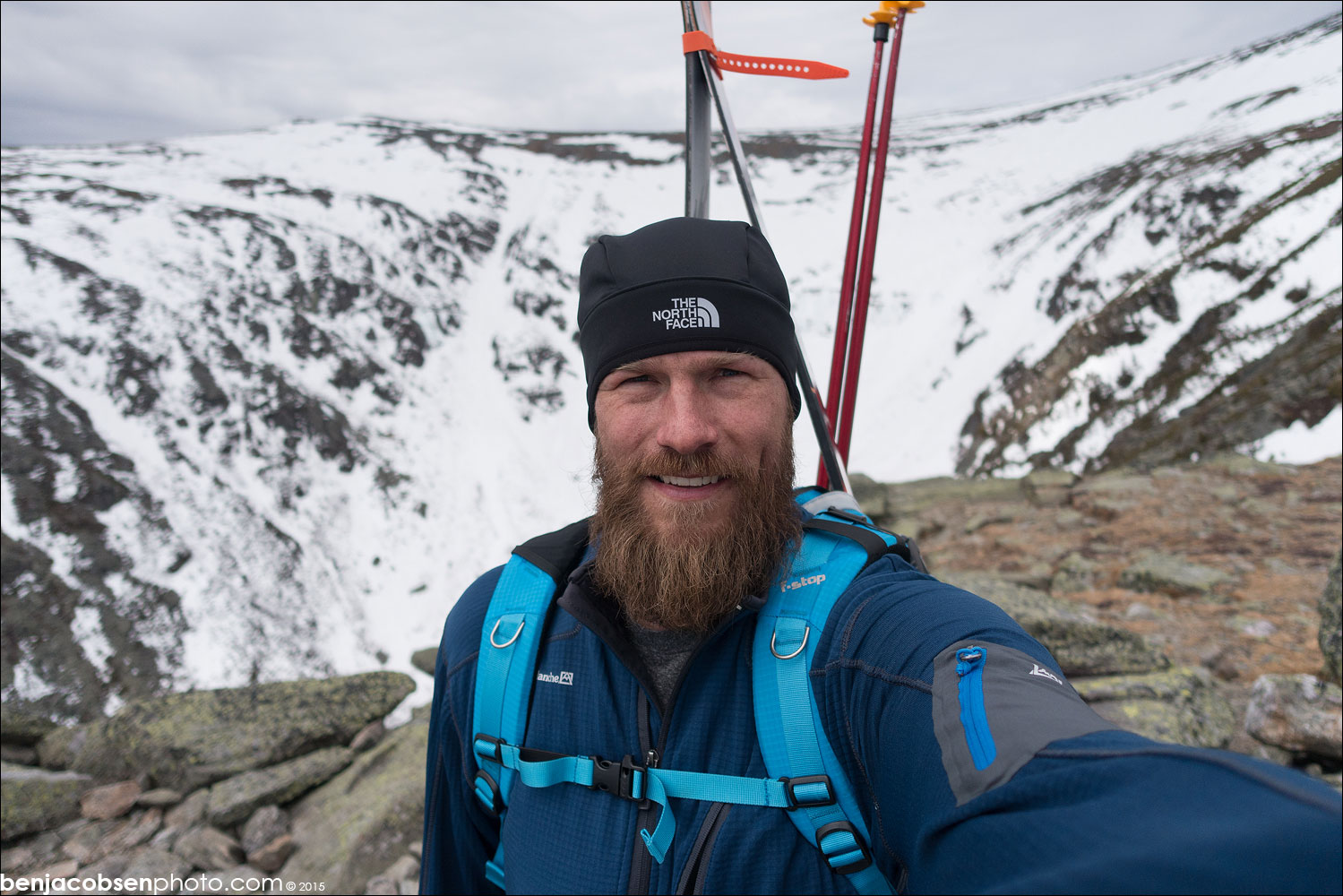 Four two three four…  What's that?  That's how much vertical I was able to ski in one run Saturday.  It's also my personal record for single longest run ever for me, including when I lived out west.  I was able to get up north for one last weekend of skiing with David Simms and David Howland.  It'd been planned for a few months.  We put the date on the calendar back in early February in terms of a weekend where all three of us could go.  That typically never works with Mount Washington's weather.  All week the forecast was for rain from at least afternoon if not earlier.  By the time we'd driven up to Franconia Saturday they'd moved the rain up to 9am.  We were expecting a wet hike and ski but lucked out with a blue bird morning/sunrise and perfect cloud cover the entire hike and ski.
We were also able to connect all the dots in terms of snow for my first time ever.  I've never summit-ed in the "winter", only is non snow months.  But the weather was perfect and there was snow on the upper snow fields so up we went.  We climbed lion head's winter route (my favorite, the worst part of the climb is earlier and you get the best view of the ravine with less crowds).  Then up the snow fields we went which is a much easier climb in snow straight up -vs- summer where you have to boulder and hike a longer distance.  We clicked in about 20′ from the summit sign and pieced together a line that went down the snow fields, traversed over to the top of the chute (David Howland skied right gully to get better shots of me in the chute).  From there there was just enough snow to ski from the bottom of the ravine to the top of the Sherburne Trail, another first for me, I've always had to hike down this section.  Then it was down Sherburne which had just enough snow to ski the entire way to the parking lot, but we were also incredibly lucky in the fact we actually parked RIGHT at the base of the trail!  Simms made it down about 45 minutes after us.  While we were waiting it started to get dark and gray and sprinkled a bit.  Simms had been at the car <5 minutes when all of a sudden it started POURING and we had thunder and lightning!  We could not have timed it better if we tried!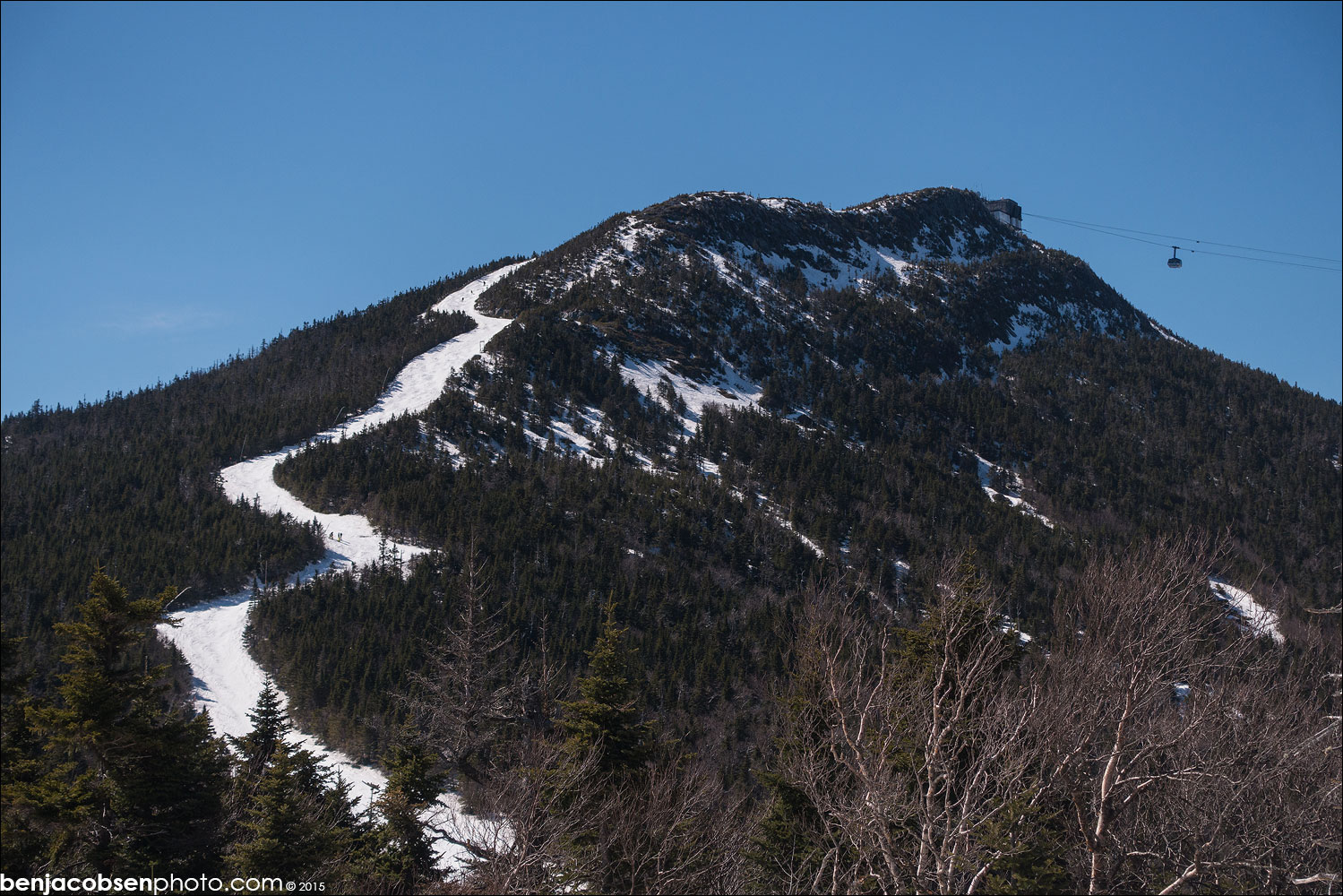 After that we each had an obligatory tuckerman's brewery altitude ale to celebrate, then got in the car and headed to Jay Peak.  This was also my first time ever making it to Jay…  It's been on my list forever but it's always been "too far".  The drive is actually quite easy and it's "only" 5 hours from home (the closest ski area in NH/VT is 3.5 hours from us).  We had dinner and then soaked in the hot tub until they kicked us out (closed at 10).  Jay was amazing and a place we'll definitely be going back to.  We enjoyed a great day of lift accessed (and tram accessed) skiing and Ben and Kelley were also able to join us.
Such and amazing way to cap off what's been the best ski season of my adult (post Montana) life.  I managed to ski over 20 days this year between Wachusett with the family and getting away a few times with Nikki and friends.
On a technical/photog note, all images in this gallery/post were taken with my RX100iii.  It's my new point and shoot and I've really been enjoying having a tiny go anywhere camera.  The image quality has been impressive.  I also hiked with my F-stop Satori and it handles everything with ease (I upgraded from a Loka in the past year because it was too small for my helmet when hiking).