Both benjacobsenphoto.com and newschoolofphotography.com were started back in June of 2007.  You can see their first posts by clicking on those links above.  Since then NSOP has become a great photography resource for those wanting to learn in a more laid back setting.  We strive to be less about what brand camera you might use and more about how you use it and helping you improve.  NSOP is home to one of the best photography news blogs online.  The blog was originally started in 2007 but with so few users back then it wasn't getting much traffic.  It was rekindled in May of 2011 and there have been over 1050 posts since (averaging over 5 stories a day).  Our rough stats (current November 2011):
300,000+ page views a month (increasing 10%/month)
18,000+ unique visitors a month (increasing 20%/month)
10 page views/visit (that's 10 times they'll see your ad!)
7 minutes spent browsing
Our readers on average are "serious" photographers who own one or more "prosumer" or above cameras and spend $500 or more on photography equipment per year.   Here's what you get:
125 x 125 pixel ad spot
"above the fold" in the right column on both the front page AND in the forum
you can supply a .jpg, .gif or .png with the link of your choice
10 total spots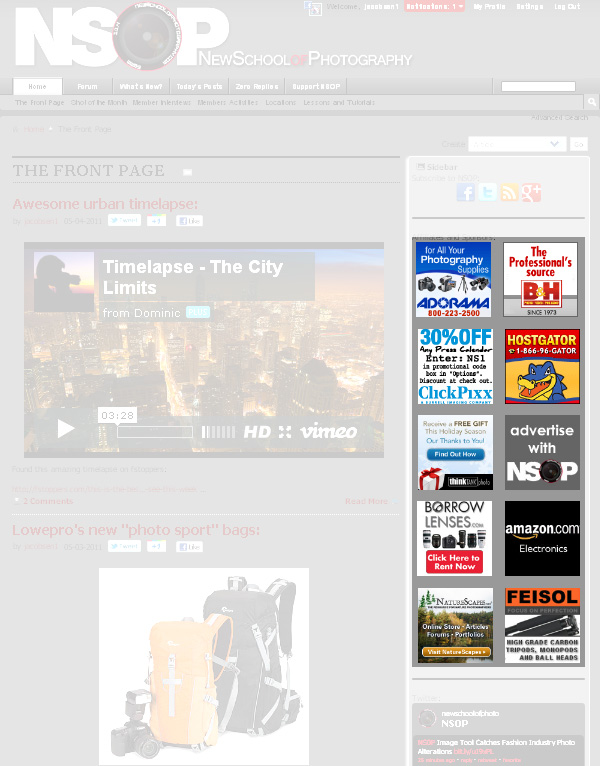 Please use the contact form to get in touch and we can put together an advertising package that will benefit us both.  benjacobsenphoto.com only uses affiliate banners or google adsense banners in the gear section.  If you'd like me to review a product or thing your affiliate program would be a good fit with either site, please also use the contact page to get in touch.